Nordstrom Cares: Respecting the Environment
JULY 17, 2017
Our Specialty Coffee team has been serving direct-trade, organic and fair-trade coffee options for years, and, for a limited time, we're adding a new sustainable coffee to the lineup. Starting in July, a limited number of bags of certified Bird Friendly® coffee will be available in all of our Ebars.
MAY 31, 2017

We're excited to share our latest corporate social responsibility report, which reflects our social responsibility and environmental sustainability efforts in 2016. The report is now available at NordstromCares.com.
APRIL 19, 2017

Though Florida may hold the official title of "Sunshine State," the "Golden State" of California isn't far behind when it comes to sunny days (fun fact: the bustling city of Los Angeles gets an estimated 292 days of sun every year!). What to do when you have so much of a good thing? Put it to use!
APRIL 17, 2017
If you've ever shopped online and come home to find a note on your mailbox that said "Package could not be delivered," you understand the frustration of multiple delivery attempts. What you may not know is those delivery attempts can impact the environment and livability in your city. Our Transportation team is trying to address those problems through a partnership with Costco, UPS, USPS, Charlie's Produce, the City of Seattle and the University of Washington. Together, we've formed Urban Freight Lab, which is focused on addressing the negative logistic and environmental impacts of delivering packages in dense urban areas.
DECEMBER 5, 2016

Nordstrom earned a "B" rating on our annual Carbon Disclosure Project (CDP) climate disclosure, a tool that allows companies and other organizations to measure and manage their environmental impact.
JUNE 20, 2016

Nordstrom came in at #35 out of the 500 U.S. companies in the 2016 edition of Newsweek's annual Green Rankings, which rates large global companies on their sustainability performance and environmental impact. This is our highest spot ever and a significant leap from last year's #95. Also, among the 83 'Consumer Discretionary' sector companies included, we jumped to #5 from #9 in 2015.
MAY 17, 2016

We're pleased to share that we've posted our latest annual Corporate Social Responsibility (CSR) Report, which reflects our 2015 CSR efforts. Since 2009, we've used this annual report to demonstrate what we've accomplished, identify opportunities to improve and hold ourselves accountable for continuing to make progress. This year, we updated our approach to provide even more context and details around what we've done and where we're going next.
APRIL 24, 2016

Carbon is a significant contributor to global climate change, which is why we're focused on finding ways to reduce the emissions we create across the company. There are a lot of ways we're doing that, like using more energy-efficient lighting and being more efficient as we transport merchandise. We're also doing things outside of our own four walls.
FEBRUARY 26, 2016

Our company has grown a lot in the past several years, and in order to best serve our customers, our Seattle headquarters has had to grow along with it. As we expanded into new office spaces and made updates to existing ones, we found we had more than 25 truckloads of old office furniture (things like desks, cube walls, shelves, tables and chairs) that we were no longer able to use. Sending it all to a landfill was going to be expensive, not to mention filled with negative environmental impacts, so our teams worked to come up with a better solution.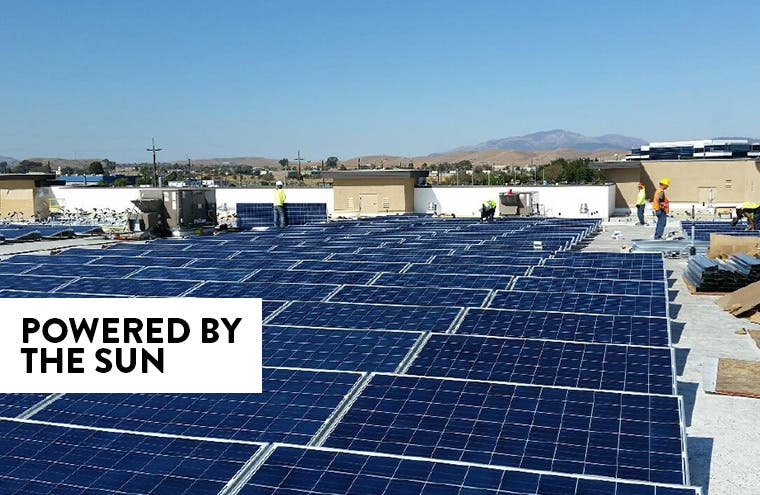 DECEMBER 24, 2015

For the past eight weeks, there's been a flurry of activity at Nordstrom Rack Persimmon Place in Dublin, California—and we don't mean just inside the store during this busy holiday season. There's also action taking place on the rooftop. It's all part of a smart sustainability initiative led by the mall's owner, Regency Centers. In an effort to supply the shopping center with renewable energy, Regency is adding more than 1,334 solar panels across the entire mall development, with 540 placed on our roof.
OCTOBER 20, 2015

To celebrate our annual Anniversary Sale (our biggest sale of the year) this past July, our social media team pushed physical and digital boundaries to create our biggest Instagram post ever. Featuring a larger-than-life, leopard-print Leith dress (complete with a gigantic wooden hanger), the 55-foot-tall installation on the roof of our Downtown Seattle store took our social media game to new heights—literally.
It should come as no surprise that for Volcom—a brand that offers casualwear for men, juniors and kids who can often be found riding waves, snowboarding down mountains or skateboarding in a local park—environmental sustainability is a business issue that's top of mind. And because the company was built on the ideals of liberation, innovation and experimentation, it should also come as no surprise that Volcom is taking some groundbreaking steps toward making itself an even more sustainable brand than it already is.
As a retailer with in-store and online operations, Nordstrom relies on shipping to serve our customers. At the same time, we realize the environmental impact that shipping can have, so we continue to look for ways to lessen that impact. Our participation in the SmartWay® program is one way to help us do just that.