Nordstrom Rewards Canada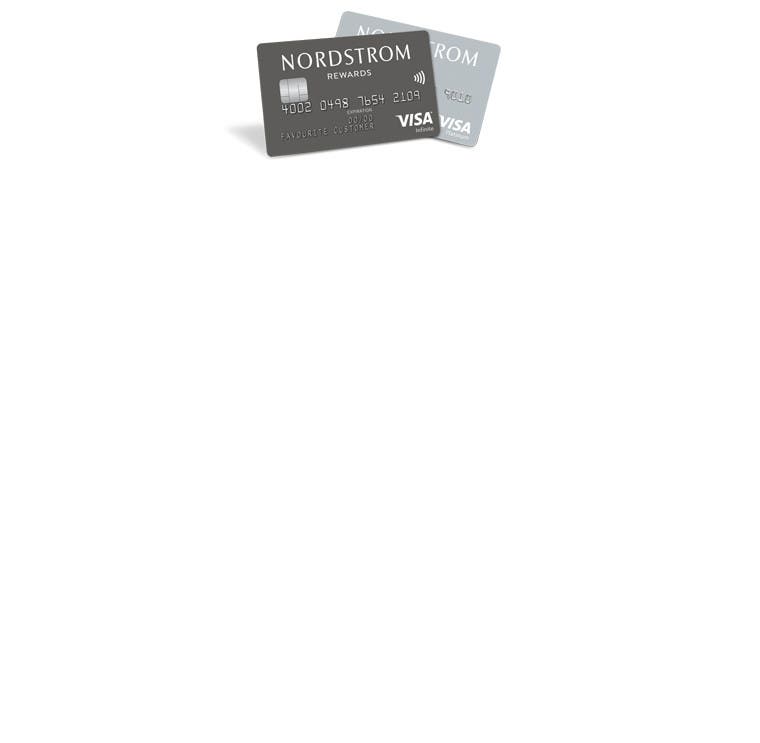 ‡These are highlights of the credit card rewards program (the "Program") associated with this credit card account. Points will be awarded on eligible purchases charged to your account as set out in the Program terms and conditions. Eligible Nordstrom locations to earn 2 points for every $1 in eligible purchases include Nordstrom, Nordstrom Rack, HauteLook, and Trunk Club Clubhouses in Canada, the United States and Puerto Rico, and at nordstrom.com, nordstromrack.com, hautelook.com and trunkclub.com, as described in the 
Nordstrom Rewards Terms and Conditions (Cardholder Program)
 and can be found at
nordstrom.com/rewardscaterms
. Complete terms and conditions describing Program eligibility, limitations and restrictions will be sent after your account is opened. Please read the terms and conditions upon receipt. Accumulated points can only be redeemed in accordance with Nordstrom Rewards (Cardholder Program). The Toronto-Dominion Bank has no liability or responsibility for any aspect of Nordstrom Rewards (Cardholder Program). Please visit 
nordstrom.com/rewardscaterms
 for complete 
Nordstrom Rewards Terms and Conditions (Cardholder Program)
.
††To qualify for this offer, an applicant must be approved for the specific credit card account described in the offer. The account must be used for at least one eligible purchase with your new credit card at an eligible Nordstrom location, that is not subsequently rescinded, the subject of a charge back request or otherwise disputed. Eligible Nordstrom locations include Nordstrom, Nordstrom Rack, HauteLook, and Trunk Club Clubhouses in Canada, the United States and Puerto Rico, and at nordstrom.com, nordstromrack.com, hautelook.com and trunkclub.com, as described in the 
Nordstrom Rewards Terms and Conditions (Cardholder Program)
 and can be found at 
nordstrom.com/rewardscaterms
. Please allow 8-10 weeks from the eligible purchase date for bonus points to be posted to your points account. Limit one-time bonus points offer (no cash value) per new account. This promotion is offered by MBNA and may be amended or cancelled at any time without notice.
*Trademark of Visa Int., used under license.