Here's a challenge: try keeping up with our VP of Creative Projects. From Los Angeles to New York and London to Seoul, Olivia Kim is constantly on the move, and taking it all in stride. Her frequent-flier situation is solid gold, and if there were a rewards program for globally logged workout miles, she'd be clocking major points there too.
We talked to her about life on the road—and in her Nike trainers.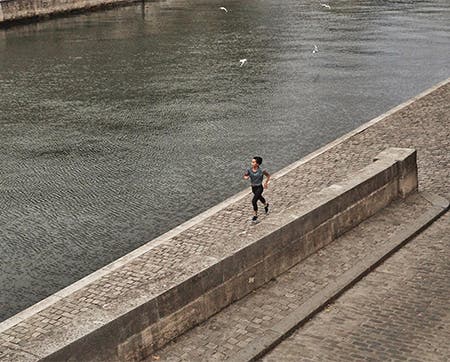 What's your favorite way to work out?
It really depends on what city I'm in. When I'm in Seattle I love going to Inspire Pilates or Yogalife, and when I was in Vancouver recently we hit a boxing class at Equinox. But whenever I travel, no matter where I go, I love to go out and hit the streets; I try to go running in every city I visit.
And then there was that time you did that 10K during Paris Fashion Week. 
That was an amazing opportunity. Not only did I get to work out with a Nike trainer during the week, but my whole team did the race too. Running through those streets and across the Seine? Unforgettable!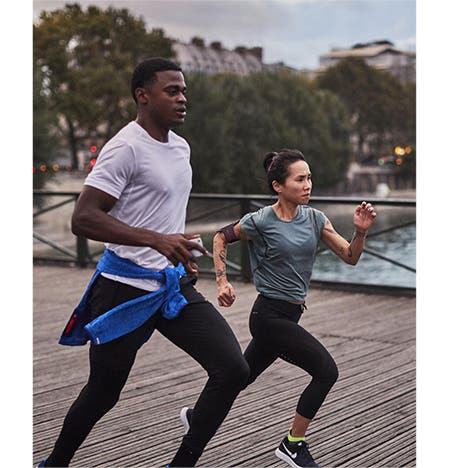 What's your favorite way to be active with your friends?
We're dorks. We always go surfing, swimming and kayaking, but we love a beach relay too. Like, run down to that buoy and back, tag the next person—who has to logroll down the hill—and then tag the next one for a cartwheel into the water.
What do the words "girl power" mean to you?
Strength in numbers. The idea that you've got all these smart, beautiful sisters who are going to make an impact on the world, and they've got your back too. They're there for you, and together you can do anything.
What motivates you to be successful, whatever success means to you right now?
I have a unique urge to share information and to share what I see—not only in fashion but also in art, culture, food, everything. I love that in my job I have an audience who is curious about what I'm curious about.
All spruced-up or kicked-back and casual? The new answer is "both." Sporty bra tops, babydoll dresses and sheer ruffles over cropped denim: it's a look that'll take you just about anywhere.
Rock a shiny statement bag and a snug moto jacket for night—or just for the fun of it.