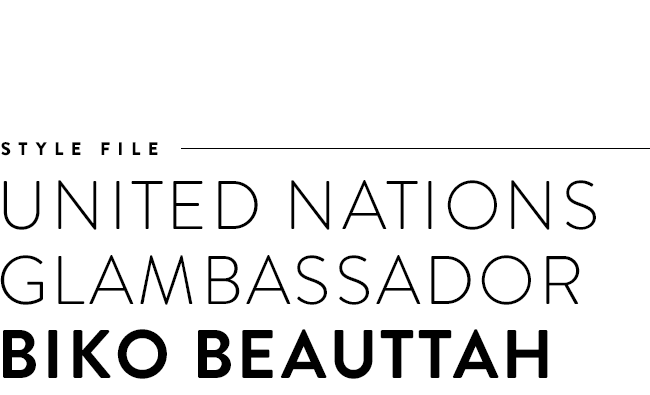 By Britt Burritt
As the UN's first Glambassador, the charismatic Biko Beauttah is championing refugee rights in addition to founding Trans Workforce, a career and networking fair for the trans population. She's come a long way since leaving her home in Kenya—where discrimination against LGBT people can result in prison sentences—and settling in Toronto 12 years ago.
We spoke with Beauttah about her new role, her style and misconceptions about refugees.

What are your holiday traditions?
My friends John and Geoff, whom I met at a fashion show many years ago, usually throw me "Refugee Christmas." They do this to make up for the fact that I have no family in Canada and I get lonely during the holidays. But I already do have family in Canada—the two of them!
What is your favourite holiday memory?
My favourite holiday memory is the year when I hosted my own Refugee Christmas. There was so much love.
Tell about where you live…
I live in a very charming neighborhood right in the heart of downtown Toronto and I've lived in the same place since I checked out of a refugee shelter 12 years ago. I don't like to move a lot so I'm still in the same neighborhood.
What can you share with us about the refugee experience?
The common misconception that most people have about refugees is that refugees are usually economic migrants, which is the furthest thing from the truth. There have been heads of state, kings and queens. Empress Farah, my favorite refugee, the most glamorous woman that ever lived, has not been able to go back to Iran and she's an empress. In New Orleans, from Katrina, the most powerful nation on Earth can create refugees. In Canada ... remember the forest fires? It was the newly immigrated Syrian refugees who offered sanctuary to the Canadians. So, refugees, the one thing we have in common is that we're fleeing homes seeking safety. That's the true definition of a refugee.
You're a United Nations Glambassador. Can you tell us about this role?
It's beyond amazing, an amazing full-circle moment for me. To think that 12 years ago I was living in a refugee shelter and now I represent the people of the United Nations High Commissioner for Refugees. Canada has been very generous and supportive in letting me define a role. It basically means putting your best foot forward as you step up and seize every opportunity to do good while looking good. Diversity and inclusion with a megawatt smile.
How would you describe your personal style?
So, my personal style is art. That's what I get the most out of fashion: self-expression. I like to think of myself as a canvas and fashion being the medium I use to create the art, an eclectic mix of modern combined with the African traditional elements of my ancestors. That's my personal style.
Do you have a signature fashion piece or look?
Well, my hair usually stands out a lot because I wear my hair in an afro. When you see a black person with an afro, it's the most authentic representation of you. When I wear my hair in an afro, I almost feel like it's a crown and I feel like I'm a Nubian queen. It's hard to explain how you can feel: like you're wearing a jeweled crown on your head.
Where do you get your fashion inspiration?
I don't go by trends, I don't go by style, I just beat to the tune of my own drum. So, I'm usually inspired by what I can see or have seen and it can be anywhere from nature, cinema, especially like old Hollywood, you know, or fearless women who just dress to the max unapologetically. Like Amanda Lepore, for instance, an iconic trans woman who is unapologetically her. I mentioned Empress Farah. In the '70s, her wardrobe, it would rival anything you've ever seen. Empress Farah to me is probably the best-dressed woman that ever lived.