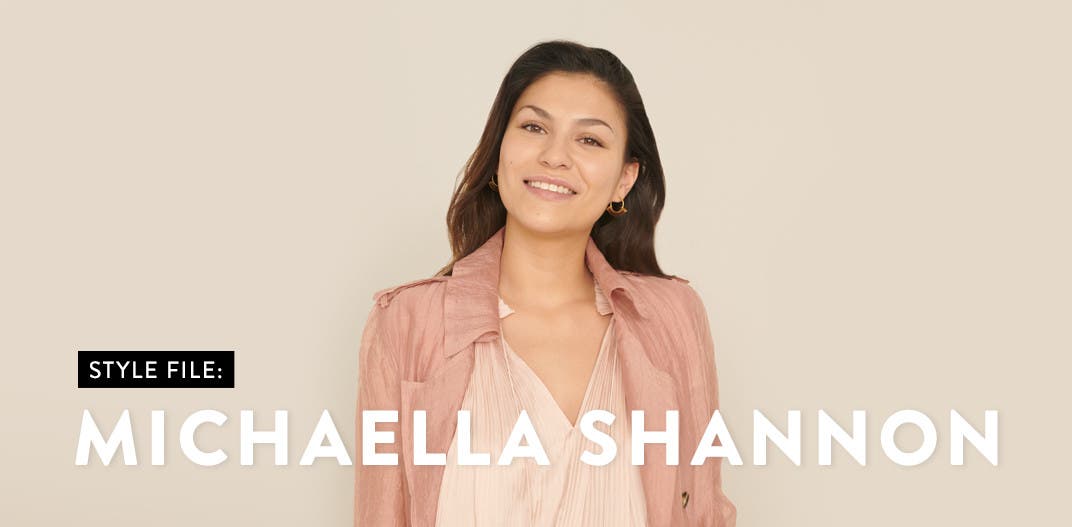 Style File: Model & TV Host Michaella Shannon
By Tessa Trudeau
Keeping her Cree and Lakota heritage at the forefront of her fashion choices is incredibly important to TV host and model Michaella Shannon. She always adds personal, meaningful touches to her outfits, mixing today's fashion with traditional pieces like beadwork and moccasins.
Having modelled for a decade, Shannon now also hosts the paranormal documentary series The Other Side and facilitates workshops on topics affecting indigenous communities. One of the faces of Nordstrom's spring 2019 campaign, she shares her fashion icons, go-to outfits and how she weaves her background and culture into her everyday style.
How would you describe your personal style?
I like to remain sophisticated and timeless. That's something my mom taught me to shop for and to look for all of my life: things that are timeless and aren't ever going to go out of style.
Do you have a signature piece that exemplifies this timeless sophistication?
I have staple pieces of jewelry that I often wear—indigenous beadwork that has a modern flair to it. I have small beaded earrings that are subtle but will catch your eye, and people will recognize it as indigenous artwork. So I always have my beaded earrings or a turquoise ring.
Can you tell us a bit more about these jewelry pieces?
I like to incorporate indigenous fashion or jewelry into some of my more modern, everyday looks. It's important to me to represent my culture and represent where I'm from, and it also helps support local indigenous artists, as well as break stereotypes.
I know a lot of people across the world, based on my travels and experiences, still think that indigenous people wear buckskin and still have these stereotypes in their mind. So, it's important to incorporate a more modern flair and show the world that we dress like everybody else, but we still have our traditional beadwork and artwork in today's fashion. And it's important for me to support those indigenous artists because I'd rather do that than buy something that's culturally appropriated or something that's made by a non-indigenous person.
Do you do any of the beadwork yourself?
I can make earrings, and I just made my first necktie this past year, so I'm a beginner beader. I'm more comfortable with beading things for myself or my loved ones, but I plan to learn more like quillwork and tufting. Wearing my beadwork and wearing indigenous artwork is important because it helps identify who I am and where I come from.
What is your tribal background?
I'm Cree and Lakota. I say Cree and Lakota because by blood I'm Cree—my biological father is from a reserve in Northern Alberta called Frog Lake. But I was raised by my stepdad since I was five years old, and he's Lakota from Southern Saskatchewan called Chehalis First Nation. So all of my teachings, my name, my traditional name and spirituality—everything that I know is Lakota because he adopted me as his daughter and he adopted me into his community.
What is your traditional name?
My traditional name is Eagle Feather Flies with the Wind Woman.
What is your go-to outfit most days?
Most of my closet is black. I have a million pairs of high-waisted black jeans, so I usually throw on those, and I also have an obsession with jackets, sweaters and cardigans. They're warm and comfortable but can be sophisticated and put together at the same time with a trendy coat or an artsy cardigan.
I'm always wearing my Manitobah Mukluks, which are another staple to my outfits. In the wintertime the mukluks are great, but in the summertime, I always have little moccasins on, which are another thing that I incorporate into modern fashion. Just a little piece that you can look at and recognize as indigenous artwork.
Do you have any fashion icons?
I would say more of a classic fashion icon would be Audrey Hepburn. She's timeless and famous for her little black dress, her simplicity, her glamour, sophistication and elegance. For more current fashion icons, I really, really love Meghan Markle and Jennifer Lopez.
Can you tell us about your beauty routine?
I don't really wear makeup on a day-to-day basis. My daytime job I don't wear makeup to, but when I work my nighttime job I'll put on a little bit. I like to keep my skin clean and clear as much as I can. I do a lot of modelling and they apply the makeup heavily, so to keep my skin nice I like to go with a bare face day to day.