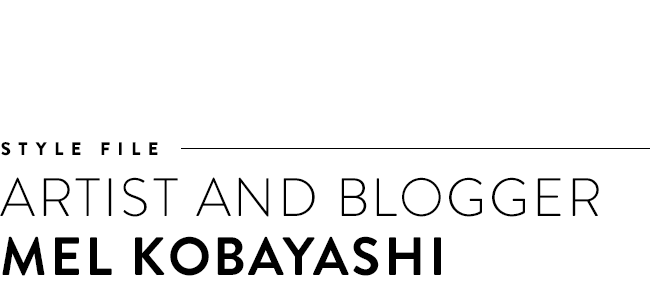 By Britt Burritt
Quirky doesn't begin to describe Mel Kobayashi, the painter and fashion blogger based in Vancouver, Canada. Her style, as documented on her blog, Bag and Beret, is a mishmash of vintage '70s prints, androgynous suiting and '90s club-kid colors—always topped with her silver pompadour and devil-may-care grin.
Kobayashi tells us why she doesn't believe in style rules or dressing your age.

Where do you live?
I live in Vancouver, British Columbia, and this the most wonderful city. As I speak to you, I'm looking out the window at the English Bay—it's a beautiful blue. There are gorgeous mountains. It rains a lot, but you know when the sun comes out, oh, you are so forgiven. It's just a beautiful place to live and one of the really great things I love about this city is its incredible cultural diversity. You can go for a walk and hear all the world's languages spilling out all around you and I really enjoy that.
How has your personal style evolved with age?
I always wore exactly what I wanted to. Ask my mother. We had lots of "conversations" about what I was wearing. But I think that my style has evolved significantly since I hit my late 40s. That's a time when I experienced the phenomenon of the invisibility factor of women getting older and starting to be ignored and it was a big, big shock. I use my style as a way to combat the invisibility. I went out on a limb in my style choices and I'm having a blast.
On your blog you seem to have a great sense of humor about fashion. Is this important to your style?
I would say that humor is an integral part of my style. I think humor is a way of connecting with our childlike selves. It's a nonjudgmental place, and sometimes if you're very serious about fashion, the rules will tend to kick in. So humor is a way to leap over those rules, for me. It's a way to reconnect with that childlike self and squash all that seriousness that is often associated with—especially—high fashion.
How would you describe your personal style?
I would say it's eclectic. It's experiential, cinematic, impish, time traveler, gender bender, all those things. I'll wear a vintage maxi gown one day and then a navy men's suit another day. It's irrepressible and it's completely based on my mood.
What do you think of age-appropriate dressing?
Age-appropriate dressing, I don't like that. There's nothing that provokes me into breaking rules more than hearing a rule. I do recognize that there are rules in place—for example, at a school, or in some sports situation, or a religious context—but in our free time of our own free will, we can dress as outrageously or conservatively as we like.
Where do you find fashion inspiration?
I get inspiration from a lot of different places. It could be a pet shop. Like, I like the little harnesses that dogs wear so I bought a big harness for a big dog and I wear it as an accessory myself. I added some jewelry to it, so it is quite attractive.
There are a few recurring icons for me. Like I'll keep returning to Tilda Swinton. It's not so much their style, but their presence, their sense of being that I like. David Bowie. Audrey Hepburn. Even people like Edward G. Robinson or Ethel Merman.
Do you have a principle or a mantra that guides you through life?
One line that I keep returning to, it's by Bill Cunningham, who is the late fashion photographer for The New York Times. He said, "If you look for beauty you will find it." And those words ring so true in my life.