Our Latest CSR Report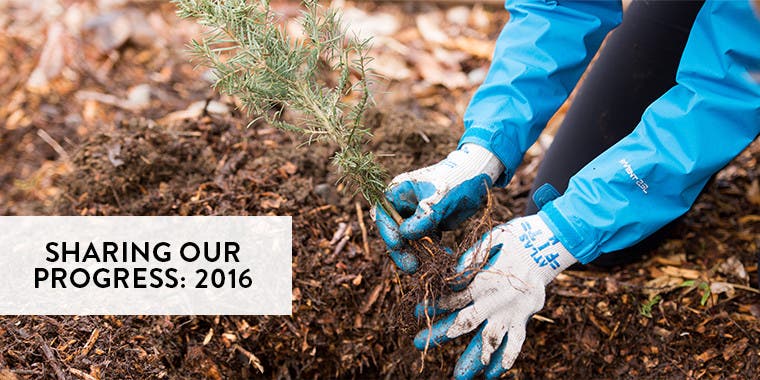 We're excited to share our latest corporate social responsibility report, which reflects our social responsibility and environmental sustainability efforts in 2016. The report is now available at NordstromCares.com.
Each year, we use this report to demonstrate what we've accomplished, identify opportunities to improve and hold ourselves accountable for continuing to make progress.
Below are several of our 2016 highlights:
• GIVING: Made our largest Treasure & Bond donation ever: $719,000 to Big Brothers Big Sisters of America and Canada.
• HUMAN RIGHTS: Piloted a worker empowerment program, Project Prerna, in two northern Indian factories where our products are made. The program aims to improve communication between factory workers and managers. Our nonprofit partner, Impactt Limited, tells us the program has been particularly beneficial for women working in the factories.
• ENERGY: Set our first renewable energy goal. We continue to be a retail industry leader in terms of reducing our carbon footprint, through both lowering our energy use in stores and pursuing efficiency in transportation.
• PACKAGING: Tested eight packaging reduction programs in Nordstrom Product Group, which kept more than 20 tons of paper and plastic packaging out of our supply chain over the course of the pilot phase alone.
• PRODUCTS: Launched a new Natural Beauty category to help customers find personal care products that are free of parabens, sulfates and phthalates.
This was our second year working toward our 2020 goals, which are aligned with the issues we think are most important to the success of our business, and which reflect feedback we've received from our customers, employees, shareholders and community partners. We are pleased to be able to show the meaningful progress we made in many areas in 2016, and our goals continue to challenge us to improve.
You can find the full report at NordstromCares.com. If you have questions or would like more information, email us at csr@nordstrom.com.