Taking Care of Our Communities: Store Opening Celebrations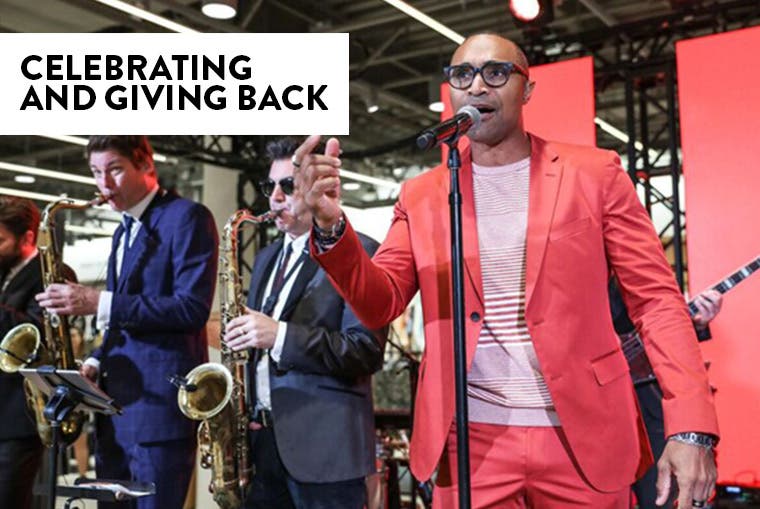 Whether we've served nearby customers for a long time or we're new to the area, each time we open a new store, we begin by hosting a fundraising event for local nonprofit organizations so we can give back to the communities that do so much to support us.
To choose which beneficiaries we'll partner with, our Charitable Giving team visits the community several months in advance to meet with nonprofits in the area. 
"This is an opportunity for us to reach out to the community and learn what their greatest needs are and what we can do to support their efforts," said Terri Baldwin, director of Charitable Giving at Nordstrom. "It's also a time for us to share more about our approach to giving, our commitment to our communities and our store opening plans."
This fall, we were fortunate to celebrate store openings in CF Toronto Eaton Centre and Yorkdale Shopping Centre in Toronto, Canada, and at Domain Northside in Austin, Texas. These events raised a combined total of $520,000 for local nonprofits.
Nordstrom CF Toronto Eaton Centre
Toronto, Canada
We were excited to kick off our store opening season with a new location in Toronto—our first of two stores in the bustling Canadian city.
We hosted a tented runway fashion show in Toronto's popular Yonge-Dundas Square with more than three dozen models wearing looks from the fall collections of some of the industry's hottest designers. At the gala next door, guests munched on hors d'oeuvres like Peking duck tacos and lobster gazpacho. If the food wasn't your focus, then surely the Drake-inspired latte art caught your attention! Guests also played in an on-site GIF photo booth. 
The event raised a total of $270,000 for six local charities: Covenant House Toronto, Humber River Hospital Foundation, Pediatric Oncology Group of Ontario, SickKids Foundation, St. Michael's Foundation and Women's College Hospital Foundation.
Nordstrom Domain Northside
Austin, Texas
The night began with nearly 1,000 customers joining us at our new store at Domain Northside in Austin, Texas. Low-grass band Sour Bridges greeted guests as they entered, and Austin-native Tameca Jones performed as guests shopped. Local eateries provided the bites of the evening, including barbecue. 
Later, our VIP event kicked off at the newly opened Archer Hotel Austin, where DJ Tone and complimentary cocktails set the stage for a lively late evening of socializing. This sellout party raised $35,000 for Austin Symphony BATS, the symphony's young professionals group.
"It's exciting to work with Nordstrom in support of the community," Kate B. Perez, Austin Symphony BATS president, said. "Our combined efforts will greatly benefit the arts in our area and the next generation of great Austin musicians, arts patrons and advocates."

Nordstrom Yorkdale Shopping Centre
Toronto, Canada
A crowd of 2,000 guests were among the first to preview our final store opening of the year at Yorkdale Shopping Centre in Toronto, Canada. 
Special performances by the Sean Jones band, DJ Jazzy Jeff and Toronto-based comedian and actor Russell Peters kept the energy of the night lively and upbeat. International supermodels Chanel Iman and Lindsay Ellingson attended, and Instagram sensation Moose the Pug joined us on the red carpet for photos. 
Most importantly, we were thrilled to be able to raise an additional $215,000 for the same six charities we supported with our CF Toronto Eaton Centre opening. This brings our total support of these organizations to $485,000, which will be donated evenly among all six beneficiaries.