Respecting the Environment: Our Newest Coffee Is Easy to Love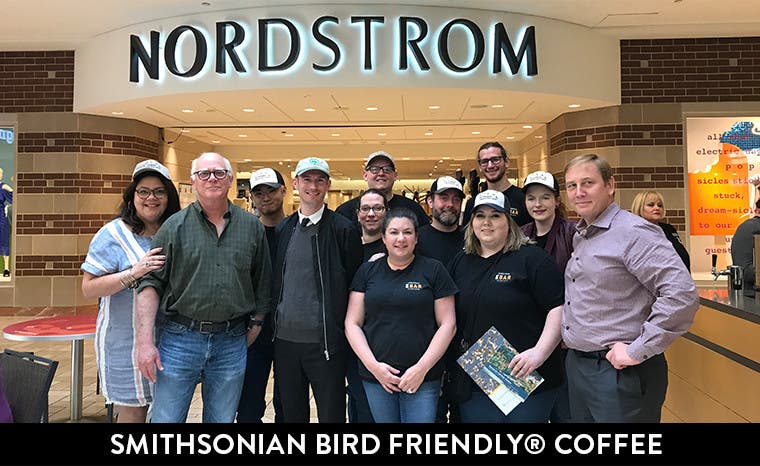 Our Specialty Coffee team has been serving direct-trade, organic and fair-trade coffee options for years, and, for a limited time, we're adding a new sustainable coffee to the lineup. Starting in July, a limited number of bags of certified Bird Friendly® coffee will be available in all of our Ebars.
Our partnership with the Smithsonian Migratory Bird Center, the organization that developed the Bird Friendly certification, came from one of our customers—Dr. Peter Marra, head of the Smithsonian Migratory Bird Center. When Peter visited our Ebar at Tysons Corner Center last year, he noticed we were already serving coffee from Guatemala, but he knew there could be an opportunity to make an impact.
"Because I knew Nordstrom had a commitment to the environment, it seemed like a great chance to collaborate and expand the work we're doing to protect the ecosystems that migratory birds depend on," he said. From there Peter reached out directly to Bill Wilson, the national director of specialty coffee operations at Nordstrom.
Nordstrom teams—from headquarters in Seattle to Ebars in Virginia and Maryland—have learned a lot about Bird Friendly coffee over the past several months. Ebar managers in the Washington, DC area even attended an in-person information session hosted by Peter and the Smithsonian team.
What's unique about Bird Friendly certification is that it incorporates several other standards: Bird Friendly coffee is 100% shade grown, USDA organic and Rainforest Alliance Certified™. The reason these certifications are better for migratory birds is that the local ecosystem is protected in a holistic way, particularly by preventing the habitat loss that comes when rainforest trees, where birds live, are cleared from fields to grow coffee. According to the Smithsonian Migratory Bird Center, habitat destruction is the leading driver of species extinction. Other benefits of shade-grown and organic coffee include preventing soil erosion; preventing coffee leaf rust, a fungus that harms coffee plants; avoiding the use of pesticides and fertilizers; and reducing greenhouse gas emissions.
We are honored that the Migratory Bird Center team felt Nordstrom would be a great fit for this coffee. Montgomery Mall Ebar Manager Ray Leslie, who attended the DC training session, says the coffee is not only environmentally friendly but also has a "more dynamic taste."
Nordstrom Ebars are currently the only retail locations where customers can buy bags of Bird Friendly coffee, while supply lasts. And as always, our baristas are happy to brew an individual cup on the spot. 
We hope you enjoy your coffee just a little bit more knowing you are supporting habitat conservation and healthy ecosystems.