Taking Care of Our Communities: Nordstrom + Breast Cancer Awareness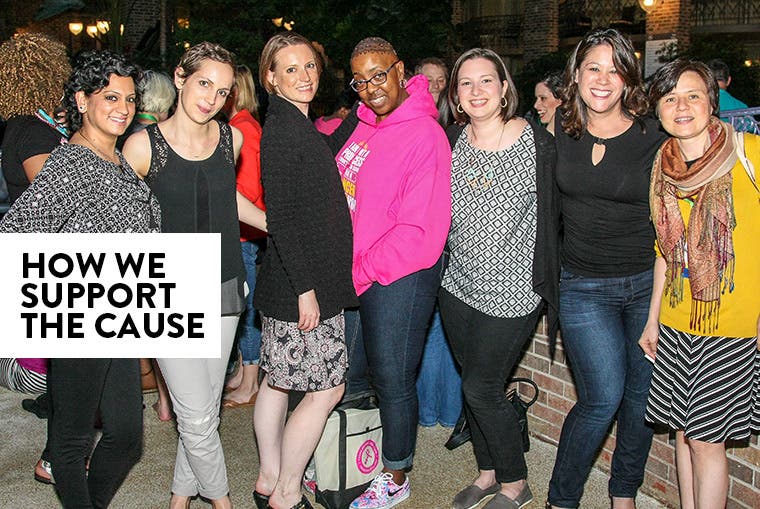 The arrival of fall brings a season with much to look forward to. But as many of us celebrate the arrival of sweater season, fall sports and festive coffee, fall also marks an important time of the year—Breast Cancer Awareness Month, recognized every October. Many of us will don pink shirts, scarves and hats, and participate in walks and fundraisers to support the cause. However, the difficult reality for many is that they, or someone they love, will be diagnosed with breast cancer.
Breast cancer is the second-leading cause of cancer death in women, and this year, the American Cancer Society expects about 246,660 new cases of invasive breast cancer to be diagnosed in women.
To help support the need in the communities we serve, Nordstrom provides cash grants to nonprofits that are working toward furthering the cause of breast cancer awareness through research, advocacy, support and empowerment. Though our support extends beyond the month of October, we thought now would be a great time to share with you just a few of the many organizations we're honored to support.
Shanti.org:  Shanti's Margot Murphy Women's Cancer Program (MMWCP) offers services to mitigate the barriers women face after a cancer diagnosis by providing multilingual, culturally competent services, patient advocacy, language interpretation, help applying for social services, in-home support, appointment accompaniment, and transportation assistance. The program is part of a larger breast cancer community, partnering with public and private hospitals in San Francisco, and working closely with social workers, medical providers, and community partners to encourage treatment adherence to reduce interruptions in care.
Breastcancer.org: Information about breast cancer is everywhere, but Breastcancer.org is a leading organization in collecting and providing the most reliable, complete, and up-to-date information about breast cancer. For many, the information overload of a diagnosis is overwhelming, and with the assistance of our grant, those impacted are able to find support and a community through Breastcancer.org.
Young Survival Coalition: The Young Survival Coalition is dedicated to addressing the critical issues that are unique to young women who are diagnosed with breast cancer. With support from Nordstrom and many others, they raised more than $5 million dollars in 2015 for programs to support, empower, educate and connect young women affected by breast cancer.
Gilda's Club: We support many different chapters of Gilda's across the U.S., which offers more than 120 free cancer support programs. Gilda's was founded by eight women in 1998, but has grown tremendously and now serves more than 10,000 men, women and children each year. Monthly "Family Fun Nights" bring those impacted together to help build a sense of community around breast cancer.
Breast Cancer Research Foundation (BCRF) (New York, NY): Nordstrom's support goes toward innovative research to doctors and scientists around the world, helping to transform how we tackle breast cancer. The BCRF is committed to gaining an understanding of how genetics and lifestyle choices affect risk factors for getting breast cancer, discovering that breast cancer isnt actually one disease but many, which can then be combatted with highly individualized treatment plans.
Canadian Breast Cancer Foundation (CBCF) (Vancouver, BC, Canada): As the largest charitable funder of breast cancer research in Canada, the CBCF has invested over $360 million to fund more than 1,400 research projects. With our support, research projects like those where the body's natural immune system is being taught to fight tumors, are advancing the prevention, early detection, diagnosis, treatment and care for breast cancer.
Rethink Breast Cancer (Toronto, ON, Canada): We're partnering with Rethink Breast Cancer for two Beauty Bash events taking place in our Toronto locations this fall. They empower young people to rethink how we approach breast cancer through education, community engagement, resources, fundraising and advocacy.