Our Coffee: Sustainably Produced & Sourced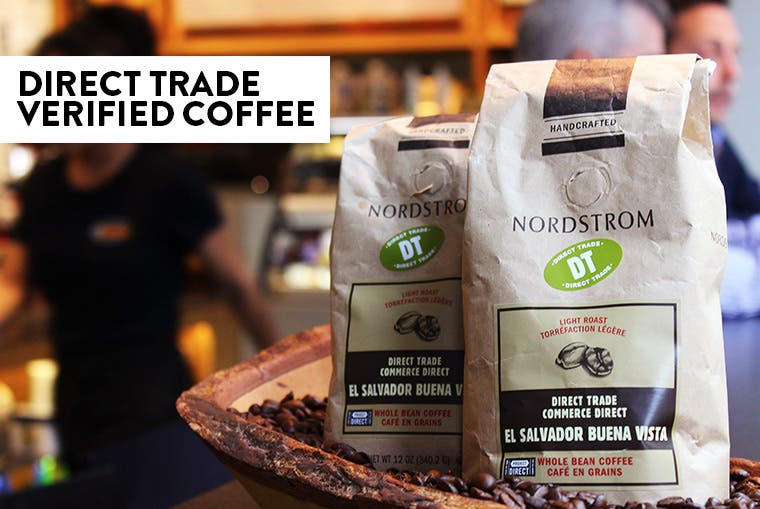 Whether you're ordering a latte, a cappuccino, or a classic Americano, a delicious cup of coffee always starts with fresh, high-quality coffee beans in the very best flavors and varieties, thanks to the hard work of our Specialty Coffee team. But there's more to the story of what makes a great cup of coffee; that's where our partnership with Farmer Brothers comes in.

All the coffee we offer is sourced and roasted by Farmer Brothers, a leading roaster and distributor that specializes in socially and environmentally responsible coffee. About a third of our coffee comes through its Direct Trade Verified Sustainable (DTVS) program, where Farmer Brothers gets the coffee beans directly from the men and women who grow and harvest them rather than from a third party.

There are lots of benefits to direct-trade coffee. First and foremost, by cutting out the middleman and working directly with the farmers, Farmer Brothers is able to ensure that those who work on the farms are being paid fairly for their crops. It also increases Farmer Brothers' control over production standards, safety and product quality—ensuring that we serve only the best beans.

"It's important for us to know we're offering our customers the very best products in our specialty coffee locations," said Bill Wilson, national director of Nordstrom Specialty Coffee Operations. "Working with Farmer Brothers' Direct Trade program was an obvious choice for us because of their excellent relationships with the farmers and their emphasis on products that've been harvested sustainably, helping to reduce our environmental impact."

In addition to its DTVS program, Farmer Brothers is making significant investments in each of the communities where it works. Through its SEED (social, environmental and economic development) goals, it supports community development projects and educational opportunities for the farmers and their families. This includes providing valuable training in environmentally sustainable farming techniques, safe working conditions, record keeping and resource conservation. These programs are essential to support not only the farmers, but also their families and the entire community.

Whether it's sourced from Peru, Colombia, Nicaragua, El Salvador, Tanzania or Rwanda, we think you'll love your next cup of coffee. Swing by one of our specialty coffee locations, or shop for your next pack of beans online using the keyword search "coffee."

To learn more about our commitment to sourcing local, organic and healthy ingredients, check out our restaurants site.