Nordstrom Cares: Respecting the Environment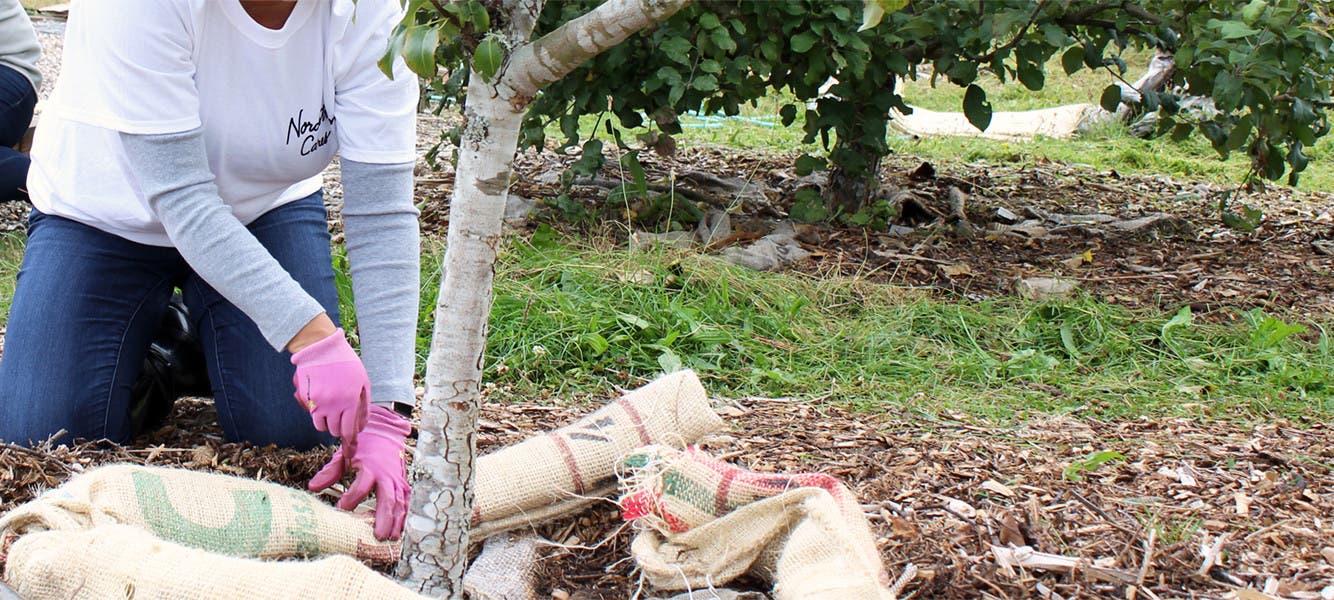 Recent Corporate Social Responsibility (CSR) Recognition
July 2018
We're excited to share Nordstrom has been recognized by PEOPLE magazine on its PEOPLE magazine on its 2018 Companies That Care list. This list is developed in partnership with Great Place to Work® to highlight top U.S. companies that have succeeded in business while also demonstrating outstanding respect, care and concern for their employees, their communities and the environment.
2017 Sharing Our Progress CSR Report
July 2018
Our 2017 Sharing Our Progress (SOP) Corporate Social Responsibility (CSR) Report is now live! Each year, we report on what we've accomplished and our progress toward the company's 2020 CSR goals. These CSR goals are focused on reducing carbon footprint, conserving resources, offering sustainable and healthier products, giving back and supporting human rights. This report previews the company's 2018 priorities.
Forterra Tree Planting Event
May 2018
Reducing the impact our business has on the environment has been a long-standing commitment for us. Carbon emissions contribute significantly to global climate change, and through our partnership with the nonprofit organization Forterra, we are able to address part of our carbon footprint outside of our own walls.

Read More
Powered by the Sun
For the past eight weeks, there's been a flurry of activity at Nordstrom Rack Persimmon Place in Dublin, California—and we don't mean just inside the store. There's also action taking place on the rooftop. It's all part of a smart sustainability initiative led by the mall's owner, Regency Centers. In an effort to supply the shopping center with renewable energy, Regency is adding more than 1,334 solar panels across the entire mall development, with 540 placed on our roof.

Read More
Respecting the Environment: Our Performance in the 2017 Newsweek Green Rankings
February 5, 2018
We're pleased to share Nordstrom ranked 35th in the 2017 Newsweek Green Rankings, which evaluate the sustainability performance of the 500 largest publicly traded companies headquartered in the U.S. This evaluation recognizes companies' efforts to use renewable energy, reduce greenhouse gas emissions, minimize water use, and divert waste from landfill. Our carbon productivity score was especially strong, which means that our greenhouse gas emissions are low, relative to our annual revenue.
Solar Powered
Though Florida holds the official title of Sunshine State, the Golden State of California isn't far behind when it comes to sunny days (fun fact: the bustling city of Los Angeles gets an estimated 292 days of sun every year!). What to do when you have so much of a good thing? Put it to use!

That's the idea behind the recent project undertaken by Federal Realty, a company that owns several shopping malls across the state. For the past several months, they've been hard at work installing solar panels on the rooftops of Westgate Mall in San Jose and East Bay Bridge Center in Emeryville. We have Nordstrom Racks in each of those malls, so we've been supporting Federal Realty throughout the project. The installation recently wrapped up, and our Westgate Mall store is now home to 308 solar panels, while our East Bay Bridge Center store hosts 696 panels.

Why are these additions so important? Solar panels absorb sunlight and convert it into electricity—the brighter the sunshine, the more power we get—allowing us to reduce our dependency on other power sources that can cause pollution and greenhouse gas emissions. These panels also have the capability of sending the solar-panel-produced electricity that we don't use back into the power grid to contribute to California's energy resources, especially during hot summer days.

Overall, the solar panels in our Westgate Mall and East Bay Bridge Center locations will generate 16 and 82 percent, respectively, of the energy the stores will use in a year. Aside from savings on our power bill, the panels on the two stores combined will help prevent about 276 metric tons of carbon dioxide from being emitted into our atmosphere.

The investment in solar panels is really an extension of Federal Realty's core values. "We challenge the way buildings impact the environment by focusing on resource stewardship with water, energy and material conservation strategies," said Federal Realty Director of Sustainability Chris Brown. "As the solar program evolves, it has become unique because it provides key stakeholders, like Nordstrom, with additional opportunities to pursue their own energy objectives and results in environmental benefits that exceed what could be achieved through our independent efforts," said Brown.

These aren't the first Rack stores to host solar panels—we have two other stores (in California and New Jersey) that have been a part of similar projects. These collaborations have given us the chance to learn more about the benefits of solar and alternative types of renewable energy sources.

With nearly every facet of our business affecting the environment, we are committed to finding ways to reduce the energy we use. After all, we want to we leave it better than we found it.
Give New Life to Used Clothing
Every year, billions of pounds of clothing end up in landfills. Thanks to our new partnership with Give Back Box®, we're able to offer our customers a better solution that helps give new life to used clothing and accessories, while also supporting local nonprofits. Customers can donate their items by mail (at no cost) and Give Back Box will distribute those donations to local nonprofits. From there, donations will be sold to fund community programs, like job training and education initiatives.

"Our customers have told us they want to be able to clean out their closets in a more environmentally friendly way," said Erik Nordstrom, co-president at Nordstrom. "By extending the life of their used items, and encouraging them to reuse the box from their recent Nordstrom order, we're trying to make it easy and convenient to help reduce waste while also being able to support local nonprofit organizations."

The new service enables customers to donate gently used clothing, shoes, jewelry or small household items. To get started, customers can visit Nordstrom.com/DonateClothes or follow these steps:

1. Open Your Box: When you order from Nordstrom, save the box your order came in.


2. Pack It Up: Fill the box with any gently used clothing, accessories or shoes you'd like to donate.


3. Print and Ship: Print a prepaid shipping label from givebackbox.com/Nordstrom. Close up your box, attach the prepaid label and drop it off at any UPS or USPS location.

"We are thrilled to have Nordstrom as a partner to share our message with its customers," said Monika Wiela, Give Back Box founder. "With its focus on service and commitment to corporate social responsibility, Nordstrom is a natural fit for Give Back Box. We're excited to work together to support organizations that are providing valuable resources to those in need in our communities."

We've begun testing an in-store donation program in our six western Washington Nordstrom stores. Those items will be directed to Seattle Goodwill and Goodwill of the Olympics and Rainier Region. Participating stores have white, Goodwill-branded donation bins located near the mall entrance or on the lower level.

Participating Washington stores include:

• Alderwood Mall, Lynnwood
• Bellevue Square, Bellevue
• Downtown Seattle, Seattle
• Northgate, Seattle
• Southcenter, Tukwila
• Tacoma Mall, Tacoma