Respecting the Environment: Forterra Project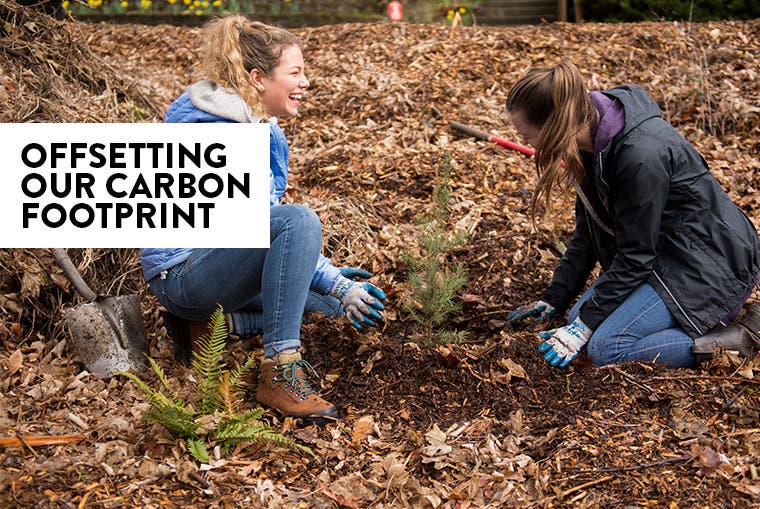 Carbon is a significant contributor to global climate change, which is why we're focused on finding ways to reduce the emissions we create across the company. There are a lot of ways we're doing that, like using more energy-efficient lighting and being more efficient as we transport merchandise. We're also doing things outside of our own four walls.

In February, some Nordstrom employees headed to two Seattle-area parks to spend the morning planting more than 600 native trees and plants. The volunteer event was part of an ongoing partnership between Nordstrom and Forterra, a nonprofit organization that's focused on environmental conservation and preservation in Washington State. Forterra's Evergreen Carbon Capture program helps Washington-based companies like Nordstrom calculate the carbon footprint of their business in the state, and then plant trees, which remove carbon from the atmosphere and store it in their trunks and roots, to offset those emissions.

Our employees visited two sites: Camp Korey (located in Carnation, Washington), a place for children living with serious illnesses; and Seattle's Burke-Gilman Trail, a 27-mile-long trail that's enjoyed by local walkers, joggers and bikers. Throughout the morning, our employee volunteers worked hard digging holes to plant native trees and plants, and removing invasive species.

"This was a great opportunity to do something for the environment that I wouldn't have been able to do on an average day," said Ashley Coley, a Nordstrom Rack assistant buyer who participated in the event. Their hard work didn't go unappreciated—they heard shouts of "Thank You!" and got lots of high-fives from members of the community who biked or ran by throughout the day.
Since first joining the Evergreen Carbon Capture program in 2013, Nordstrom has planted more than 1,300 trees and native plants that offset the emissions of 11 Western Washington stores. Over their lifetime, those trees and plants will capture more than 7,000 tons of carbon and will provide clean oxygen to the region.

"The Evergreen Carbon Capture program is our Washington state solution for companies that want to make a difference and take responsibility for their impacts on the environment," said Lindsay Fromme, Program Manager. "We are so excited to have Nordstrom as a partner in this program. It shows you care about your community and your impact on the environment."