Human Rights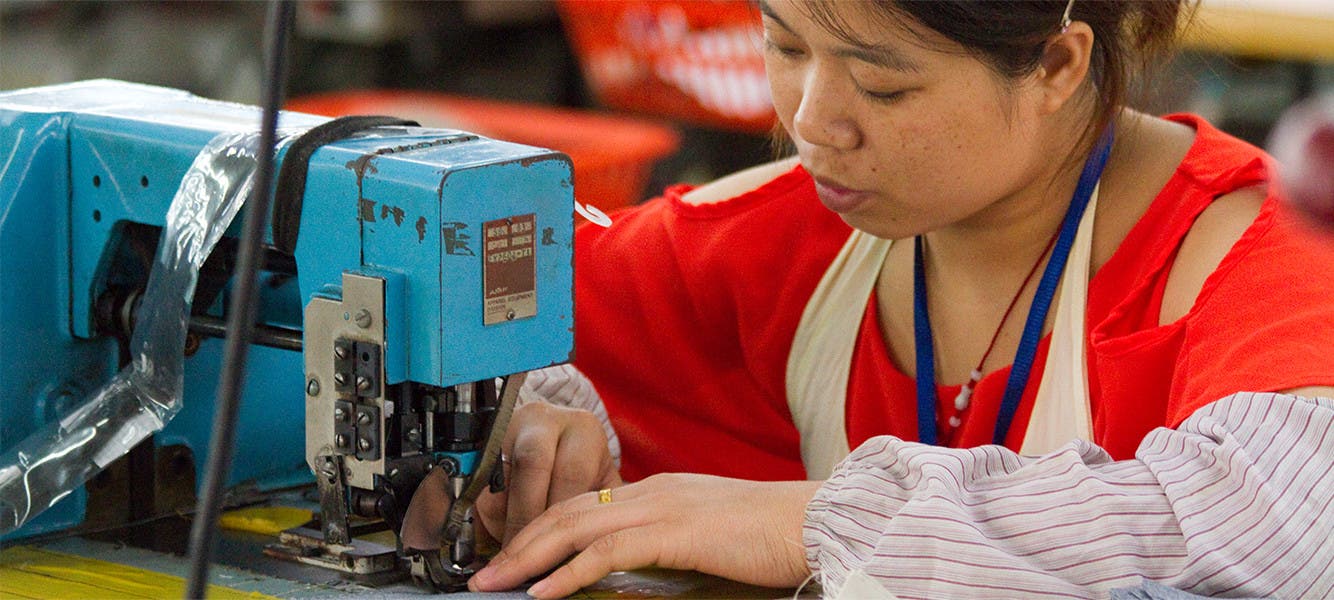 We value the many people who help us serve our customers—from our salespeople to our corporate and support roles to the people who manufacture the products we sell. We're committed to respecting all human rights and have a Human Rights Commitment that outlines what this means for us and our business.
When it comes to the people who manufacture Nordstrom private-label products for Nordstrom Product Group (NPG), we partner with factories around the world to help ensure all the workers who produce our products have a safe and healthy work environment.
Our NPG social responsibility program is rooted in transparency and continuous improvement. We work to foster a candid, collaborative and ongoing partnership that helps our suppliers improve their processes, policies and standards over time. By maintaining an open dialogue with our suppliers, we receive more accurate information about the working state of factories, which lets us offer more relevant training and other support that leads to sustainable improvements.
Guidelines & Trainings
Nordstrom seeks suppliers that share our commitment to producing quality products through ethical business practices. Every supplier we work with receives a copy of and commits to following our Partnership Guidelines, which outline the requirements we have for suppliers around employment practices, workers' rights, environmental standards, work environments and applicable local laws. View our full Nordstrom Partnership Guidelines here.
To ensure our NPG employees are familiar with our Partnership Guidelines, they each participate in an annual training. This training is also required for all NPG suppliers.
We offer an eLearning program to factories that focuses on topics like excessive working hours, worker engagement, supply chain management, and wages and benefits. Factory management and staff take the trainings as part of their improvement plans.
Factory Audits & Remediation
To ensure compliance with our Partnership Guidelines, we conduct audits of the factories that make NPG products. These audits, which include in-person assessments and worker interviews, take place before we begin production with a factory and on a regular, ongoing basis. The timing between those ongoing audits ranges from six months to two years, based on when a factory was most recently audited and the level of support the factory requires to meet compliance challenges.
When issues are found during an audit, our team works with factories to develop and implement a remediation plan, along with a timeline for change.
Most issues found in audits are minor health and safety issues. There are times an audit may reveal more critical issues that we categorize as zero tolerance. In those instances, Nordstrom will immediately stop production with the factory until the situation is resolved. If a factory is unwilling or unable to address the issue, we will stop working with them altogether.
NPG typically makes up a small portion of a factory's overall business. To make audits more efficient for our suppliers, and to help ensure any necessary improvements are made, we look for opportunities to collaborate with other manufacturers and retailers doing business in the same factories as Nordstrom.
Empowering Factory Workers
By empowering the men and women who produce our private-label products with the knowledge and skills to make informed decisions about their health, careers and work environments, we can strengthen the communities from which our products and materials are sourced.
Nordstrom has long supported worker empowerment programs that use a peer educator model, which means women and men in factories are equipped to train their coworkers. We believe this approach is most effective and gives workers the chance to build skills that are necessary to become future factory leaders.
We have invested primarily in HERproject™ programs, which are designed to unlock the potential of women working in global supply chains. Since 2007, we've supported HERproject programs in 27 factories in China, India, Bangladesh, Vietnam and Indonesia, reaching tens of thousands of workers. Read more about our investment in HERproject here.
Branded Vendors & Industrywide Initiatives
We work with our branded vendor partners to ensure they're producing their items in responsible and sustainable ways. We require that each of our vendors adheres to our Partnership Guidelines, which outlines the requirements we have for them around employment, workers' rights, environmental standards and work environments.
Because NPG is small compared to other manufacturers, we find value in partnering with other manufacturers within factories and through industrywide initiatives.
Some of our partnerships and programs include:
• American Apparel & Footwear Association (AAFA) – Nordstrom is a member of the AAFA, which enables a collaborative forum to promote best practices and innovation between apparel and footwear brands, suppliers and customers.
• ILO Better Work – We are a member of ILO Better Work, a collaborative program focused on improving worker-management cooperation, working conditions and dialogue among the factory, Better Work and buyers.
• BSR (Business for Social Responsibility) – We've collaborated with BSR since 1998 to improve conditions in factories, create sustainable environmental practices and develop long-term solutions that exceed basic compliance monitoring, including through HERproject. Learn more about our support of HERproject in factories around the world.
• Sustainable Apparel Coalition (SAC) – Nordstrom is a founding member of the Sustainable Apparel Coalition, which works to reduce the social and environmental impacts of apparel and footwear products. In addition to other tools and resources, SAC created the Higg Index, a tool to measure the environmental performance of factories over time.
• Alliance for Bangladesh Worker Safety – Nordstrom was a founding member and active participant in the Alliance for Bangladesh Worker Safety. The organization aligns with our business and the way we address factory safety by implementing training programs and collaborating with other retailers. It also placed an additional focus on fire safety and establishment of worker grievance hotlines.
Read stories about our efforts.
Responsible Recruitment Commitment
In November 2018, Nordstrom signed the Commitment to Responsible Recruitment, an industry effort to address potential forced labor risks for migrant workers in the global supply chain.
Nordstrom's private label division is committed to working with global supply chain partners to create conditions so that:
• No workers pay for their job. This includes costs associated with recruitment, migration and employment.
• Workers retain control of their travel documents and have full freedom of movement. Workers have the right to maintain custody of their personal identity documents whenever they are not needed to meet legal requirements.
• All workers are informed of the basic terms of their employment prior to leaving home. Workers will be provided with documentation or training to help them understand the workplace environment, the job role they are committing to, and terms and conditions of work before accepting the position.
Please refer to our Partnership Guidelines and our Factory Guide for all our requirements when working with Nordstrom Product Group and all Nordstrom-branded products.
Show
516 Factories in 27 Countries
China
India
Vietnam
Colombia
Guatemala
United States
Bangladesh
Indonesia
Sri Lanka
Mexico
Canada
Italy
Turkey
Brazil
South Korea
Honduras
Taiwan
Haiti
Peru
El Salvador
Poland
Dominican Republic
Thailand
Philippines
Malaysia
Romania
Cambodia