Taking Care of Our Communities: New Store Opening Galas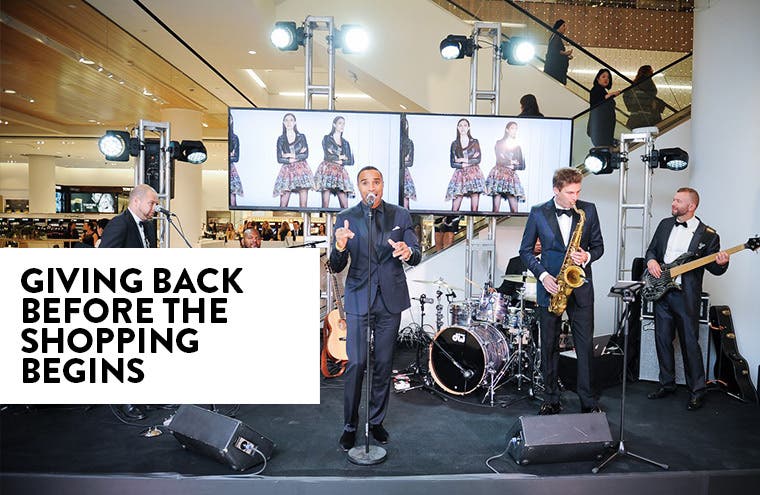 The months and weeks leading up to the opening of a new Nordstrom store are busy and exciting. Though we're counting down to the moment we open our doors and start serving customers, there's another important event that takes place just a few days before: our opening gala. These galas have become a special tradition for us—they're a chance for us to give back to the communities that do so much to support us. The galas are also an opportunity for our customers to get a sneak peek of the store while enjoying a night of food, fashion, music and (of course) shopping.
Because we underwrite the entire cost of the gala, 100% of ticket sales are directed to selected nonprofit beneficiaries. To choose which beneficiaries we'll partner with for the event, our Charitable Giving and Events Marketing teams visit each community several months in advance to meet with nonprofits in the area.
"The visits are a great opportunity for us to learn more about the greatest needs of the community we're going to be serving and identify ways we can help address those needs," said Terri Baldwin, director of Nordstrom Charitable Giving. "It's also a time for us to share a little bit more about our approach to giving, our commitment to our communities and our store opening plans."
Here are a few highlights:
Nordstrom Pacific Centre
Vancouver, British Columbia

Nordstrom Ridgedale
Minnetonka, Minnesota
We said hello to the Twin Cities by raising $200,000 for Children's Hospitals and Clinics of Minnesota and PACER Center, an organization focused on educational rights for children with disabilities.
Nordstrom Del Amo Fashion Center
Torrance, California
Though our new store at the Del Amo Fashion Center is a relocation of our Redondo Beach store, we still used the opening as an opportunity to support two great organizations: the Peninsula Committee Children's Hospital Los Angeles and Walk With Sally, a group that provides resources to the children of cancer patients. More than 1,500 customers joined us to help donate $159,250. 
Nordstrom Mayfair
Wauwatosa, Wisconsin
We were excited to partner with women's volunteer organization The Links, Incorporated, Cream City and Milwaukee Chapters; Ronald McDonald House Charities Eastern Wisconsin; and United Way of Greater Milwaukee & Waukesha County for our final gala of the year. The event, which included our first-ever gala after-party, was able to give nearly $200,000 to the nonprofits.