Taking Care of Our Communities: Celebrating Pride Month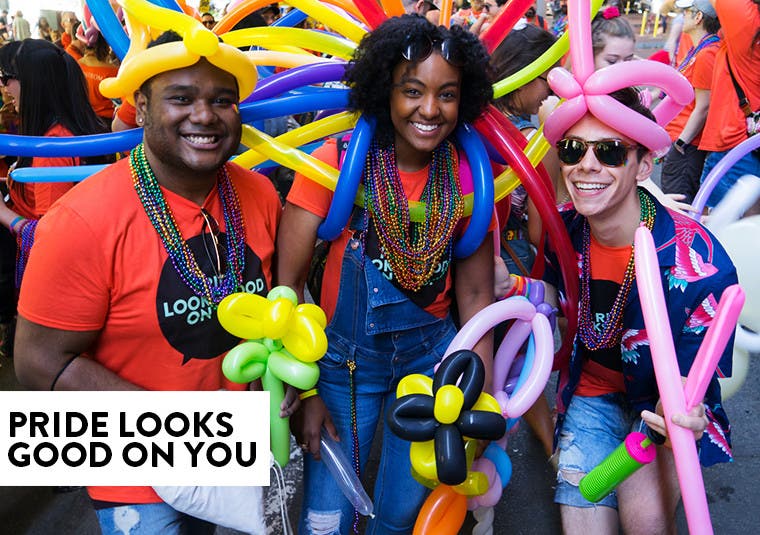 In many cities across the U.S. and Canada, June is Pride Month—a time to recognize and celebrate the many contributions of the LGBT (Lesbian/Gay/Bisexual/Transgender) community. Again this year, hundreds of Nordstrom employees joined in their local Pride parade festivities. From Seattle to St. Louis to Toronto, employees were decked out in vibrant "Pride Looks Good On You" tees (we even had a few people rocking tutus) as they carried rainbow flags and balloons. They danced and marched through the streets while handing out Nordstrom-branded rainbow sunglasses, beads and bracelets.
"I look forward to the St. Louis Pridefest parade," said Cameron Garton, a Service Experience specialist at our Saint Louis Galleria store in Missouri who participated in this year's parade. "We have been involved in the parade for the last four years and it's always so fun to see how excited the crowd gets when they see us coming. I can't tell you how awesome it feels to work for a company that shows so much support to the LGBT community and all of their employees."
Employees from more than 10 of our New York City-area stores and facilities banded together to participate in their local parade, which just happens to be one of the largest in the country. They were joined by thousands of other participants and their route took them past some of the city's most notable landmarks, including the historic Stonewall Inn—which was recently designated as an official national monument, thanks to its role as the birthplace of the modern LGBT rights movement.

Our employees in Anchorage, Alaska, earned the "Pride Choice" award from the Alaska Pride Committee for their outstanding support of Pride events, including a community 5K Rainbow Run. Chance Atwood, Specialty Coffee manager at that store, helped organize Nordstrom's participation. He reflected, "It's always encouraging to get such positive feedback from our customers. We had lots of them telling us how much they appreciated our community involvement and how amazed they were that so many employees were participating in the Pride activities."
For the first time ever, we also joined the Pride festivities in Toronto, a city that will soon be home to two new Nordstrom stores at Eaton Centre and Yorkdale Shopping Centre. In the days leading up to the parade, residents across the city could see a rainbow-painted Mini Cooper scooting around town with drivers handing out rainbow-printed Metro passes to parade-goers who needed a safe and convenient ride to and from the route. We also hosted a booth where customers could grab water and fans to beat the heat, and get celebratory looks from body and face painters.
For Lauren Adey, one of our Regional Marketing specialists in Canada, the entire weekend was one to remember. "Being a part of the Pride celebration in Toronto was an absolutely unforgettable experience. The energy was incredibly contagious all weekend long. The community's excitement surrounding our Canadian expansion made it especially magical to be a part of."