Our Restaurants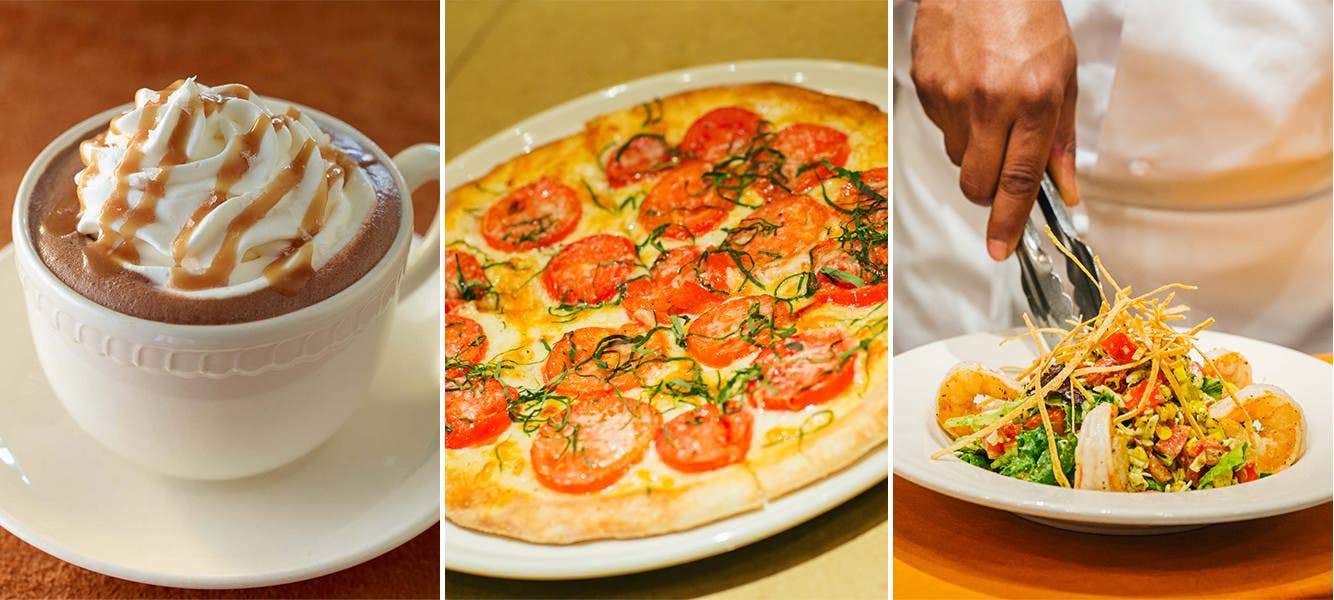 Organic & Sustainable
We're committed to offering sustainably produced foods and beverages in our restaurants and coffee bars. Our produce is local and organic whenever possible. This supports local farmers, minimizes greenhouse-gas emissions during transport from farm to table and provides our customers with the freshest choices.
All our eggs are cage-free.
We source only wild-caught salmon from Bristol Bay, Alaska. Wild salmon, as opposed to farmed, offers higher nutritional value and helps maintain natural wild fish stocks.
When possible, we source from suppliers who use the most humane processing methods commercially available. All the turkey we use comes from suppliers that use CAK processing.
We offer organic iced tea as well as fair-trade and direct-trade coffees, many of which are also organic.
Healthy Choices
We also work hard to provide customers choices that are delicious and nutritious. We use foods without unhealthy additives.
We do not use liquid dairy products produced with bovine growth hormone (rBGH).*
We do not use hydrogenated and partially hydrogenated fats and oils—the root source of unhealthy trans fats.
We support the federal government's standards for food-content reporting, but we share even more information with our customers about the foods we offer whenever possible.
Pamphlets with nutritional information and calorie counts for all our menu items are available in every restaurant and specialty coffee bar in our company.
*Except in Hawaii.
Waste Reduction
The packaging we use and the way we manage waste from our restaurants and coffee bars are sustainable too:
All menus and printed materials in our restaurants and coffee bars contain a minimum of 30% post-consumer waste.
We use an environmentally friendly disposable cup called the ecotainer®.
Compostable straws are available at our restaurants, cafés and Ebar.
Organic recycling programs in our restaurants where local composting facilities exist convert waste to compost.
Through our Partnership Guidelines, we ask our vendor and supplier partners to strictly adhere to codes or practices that meet or exceed international, national and state government standards for animal welfare in food service.