Nordstrom + Shoes That Fit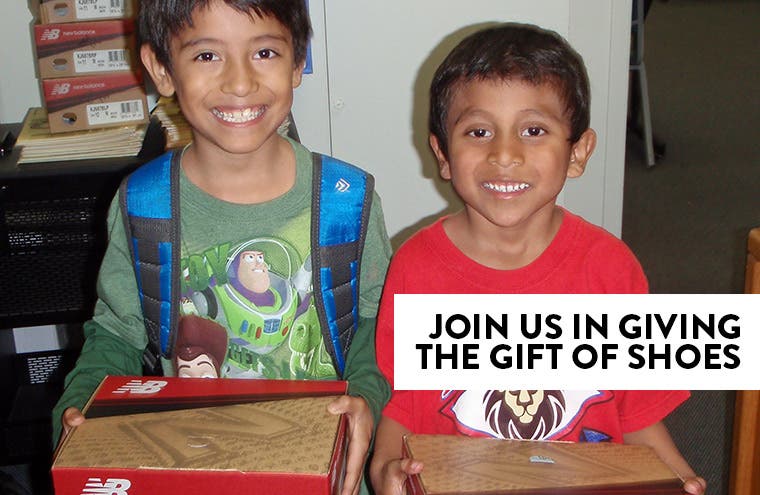 The holiday season is just around the corner, which means it's time to start making your list and checking it twice. In addition to the gifts for family and friends you may be planning to buy, what if, for just $10, you could buy a gift that would change the life of a child in your community? 
That's the idea behind our partnership with New Balance and Shoes That Fit, a nonprofit organization that provides new, properly fitting shoes to kids in need across the United States and Puerto Rico. Each year, we team up with them and our customers to give the gift of shoes to kids who might not otherwise have access to them.
From November 1 through December 24, customers can visit any of our U.S. Nordstrom or Nordstrom Rack stores to find a $10 giving card (available in all of our Shoe departments and at Rack checkout). Customers can also visit ShoesThatFit.org to buy a card online. One hundred percent of the proceeds from the sale of these cards will go toward buying a pair of New Balance sneakers for a child in the local community. 

"Having access to a new pair of comfortable shoes does tremendous things for a child," said Amy Fass, executive director of Shoes That Fit. "When kids have shoes that fit, it boosts their self-esteem, makes it easier for them to focus in school and enables them to run and play—something all kids should be able to do."
Since this partnership began back in 2010, we've been able to give shoes to more than 70,000 kids across the U.S. This year, we want to help 20,000 more. 
To find your nearest Nordstrom or Nordstrom Rack store, head over to our
store locator page
.