Taking Care of Our Communities: Nordstrom + Shoes That Fit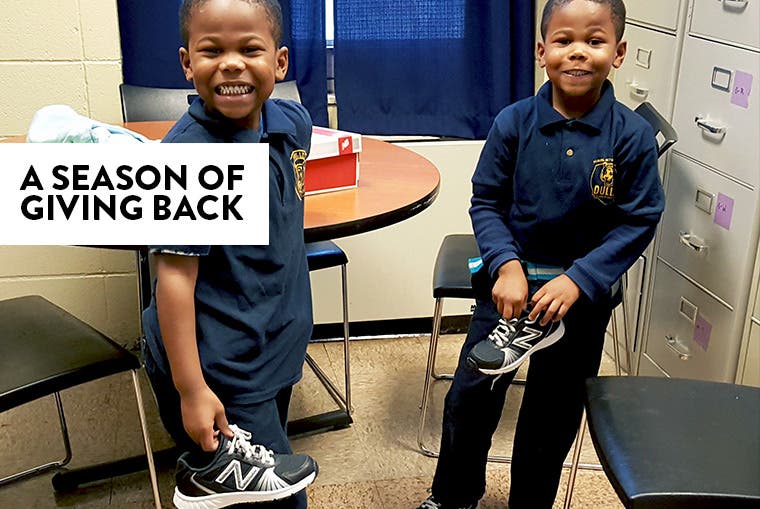 Since 2010, we've teamed up with our customers, New Balance, and the nonprofit Shoes That Fit to donate New Balance sneakers to school-aged children who might not otherwise have access to them. Over the past six years, we've donated more than 90,000 pairs of shoes. This year, we're hoping to give 20,000 more—bringing our grand total to a whopping 110,000. Interested in helping? Just visit any U.S. Nordstrom or Nordstrom Rack to purchase a $10 giving card, which helps pay for one pair of shoes for a child in need.
To say these shoes have a big impact is an understatement. Shoes that fit don't just feel good (though that's a big plus), they also help give kids confidence they need to pay attention in school and participate in gym and recess. Simply put, they help kids focus on being kids!
It's easy to understand why we're working to give the gift of shoes this holiday season. But how we get these shoes to the kids who need them? That's not quite as simple—it requires coordination from the kids' schools, the Shoes That Fit staff, and the shipping and logistics teams at New Balance and Nordstrom.
Though this is a holiday giving program, the wheels actually start turning much earlier in the year as kids are coming back to school. Shoes That Fit works directly with schools in each of the communities Nordstrom serves to identify children in need of new shoes. Thanks to handy "sizing kits," teachers and school nurses can measure each child to ensure he or she will get just the right fit.
After they've compiled the list of students and shoe sizes from schools across the country, Shoes That Fit hands the information over to the New Balance team, who gather these shoes from their warehouse in Boston, Massachusetts. The shoes are boxed up and then sent to the Nordstrom distribution center in Ontario, California (just outside of Los Angeles). There, we group the shoes together by location and mail them directly to the schools.
Once the shoes are delivered, school teams (and sometimes nearby Nordstrom employees!) hand out each pair of shoes to their very excited new owners. All of this happens before the holidays, so kids have a new pair of warm, comfortable shoes to wear for their holiday break (and beyond).
The story doesn't end there! The most important part of the process comes from you—our Nordstrom customers. Without you, this entire program wouldn't be possible. You can help us reach our goal by purchasing a $10 giving card at any of our U.S. Nordstrom or Nordstrom Rack stores. That $10 will go a long way, and will help us give one pair of shoes to a child in need. Not near a store? No problem. You can also buy a giving card online at www.ShoesThatFit.org.
Thank you for helping us make the holidays a little brighter for so many children!