Taking Care of Our Communities: Nordstrom + Shoes That Fit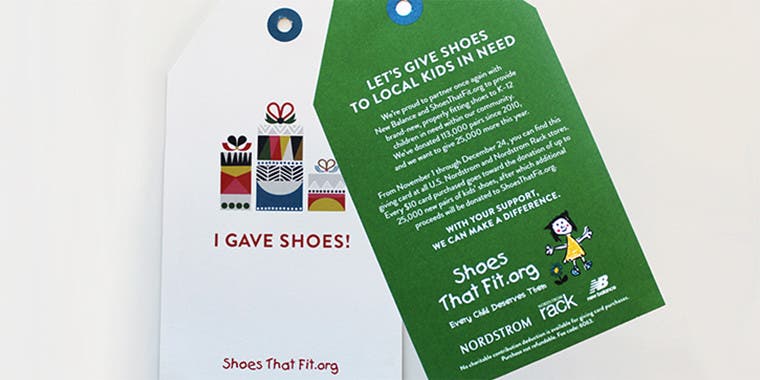 Every holiday season for the last seven years, we've partnered with our customers, New Balance and the nonprofit organization Shoes That Fit to give a new pair of properly fitted shoes to children in need across the U.S. and Puerto Rico. We are excited to continue this favorite tradition again this year. 
Beginning November 1, when customers visit any U.S. Nordstrom or Nordstrom Rack store, they'll be able to find a display of holiday giving cards. Every $10 card purchased helps us give one pair of brand-new New Balance sneakers to a child in need. Customers can also purchase cards online at ShoesThatFit.org. This year, we are asking our customers and employees to help us reach our most ambitious goal yet—giving 25,000 pairs of shoes.  
The idea behind Shoes That Fit is simple: when kids have properly fitting shoes, they're able to focus in school and be more active, both of which lead to all kinds of long-lasting benefits. Yet for so many children, shoes are typically hand-me-downs that either don't fit or are worn out. It makes it harder for them to fit in and be engaged in recess and gym. We're excited to be a part of the solution, giving more than 115,000 pairs of shoes since our partnership with Shoes That Fit and New Balance began back in 2010. 
To successfully execute this holiday giving program, coordination begins much earlier in the year. As the kids return to school, Shoes That Fit works directly with schools in each of the communities Nordstrom serves to identify children in need of new shoes and gather their shoe sizes. New Balance provides a pair of shoes for each child who needs one, and Nordstrom coordinates shipping and delivery of the shoes directly to the schools. When the shoes arrive (before Thanksgiving break), faculty, staff members and sometimes nearby Nordstrom employees hand out each pair of shoes to the very excited kids. 
Though the box is small, the impact is tremendous. Interested in giving the gift of shoes? Visit Nordstrom.com/ShoesThatFit to get more information and find a store near you.