Taking Care of Our Communities: Nordstrom + Shoes That Fit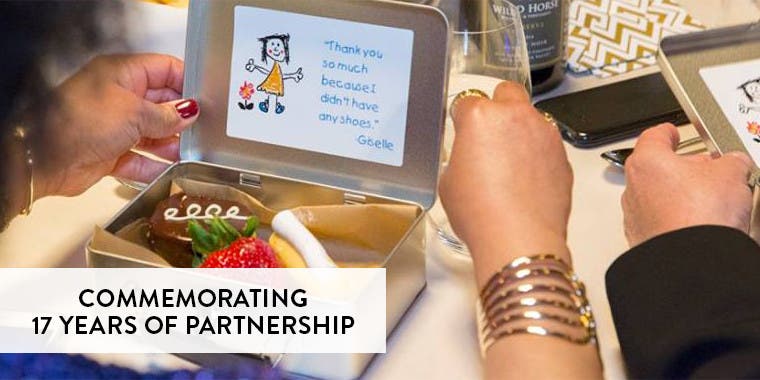 "Black Tie Optional, Sneakers Required" isn't something you often see on the invite to a gala event, but that was the dress code at the 25th Anniversary Sneaker Ball held April 22 by the national nonprofit and longtime Nordstrom partner Shoes That Fit. Hosted at Union Station in Los Angeles and emceed by comedian Alonzo Bodden, the event brought together hundreds of people in support of the organization's worthy cause: providing new shoes to kids in need. 
The evening was particularly special for Nordstrom because Shoes That Fit chose to honor us for our many years of partnership (we're going on 17 years now). In that time, thanks to support from our customers and New Balance, we've helped Shoes That Fit put sneakers on the feet of more than 100,000 kids across the U.S. and Puerto Rico through our annual Holiday Giving Program. 
"On behalf of Shoes That Fit, we'd like to thank Nordstrom for their friendship and support, and their commitment to delivering shoes, dignity and joy to children in need," said Amy Fass, the director of the organization. 
To recognize all that we've accomplished together, Shoes That Fit—with help from special guest NBA All-Star James Worthy—presented Nordstrom with a display that commemorates the great work we've done together. Scott Meden, our chief marketing officer and former general merchandise manager of our shoe division, accepted the display on behalf of Nordstrom, saying, "We're so proud of the progress we've made thus far, but we also recognize that the work isn't done. There are still more kids to serve, more shoes to give. We're thankful to Shoes That Fit for giving us the opportunity to play a role in meeting that need, and we're excited about the progress we're going to make in the years to come."