Solar Power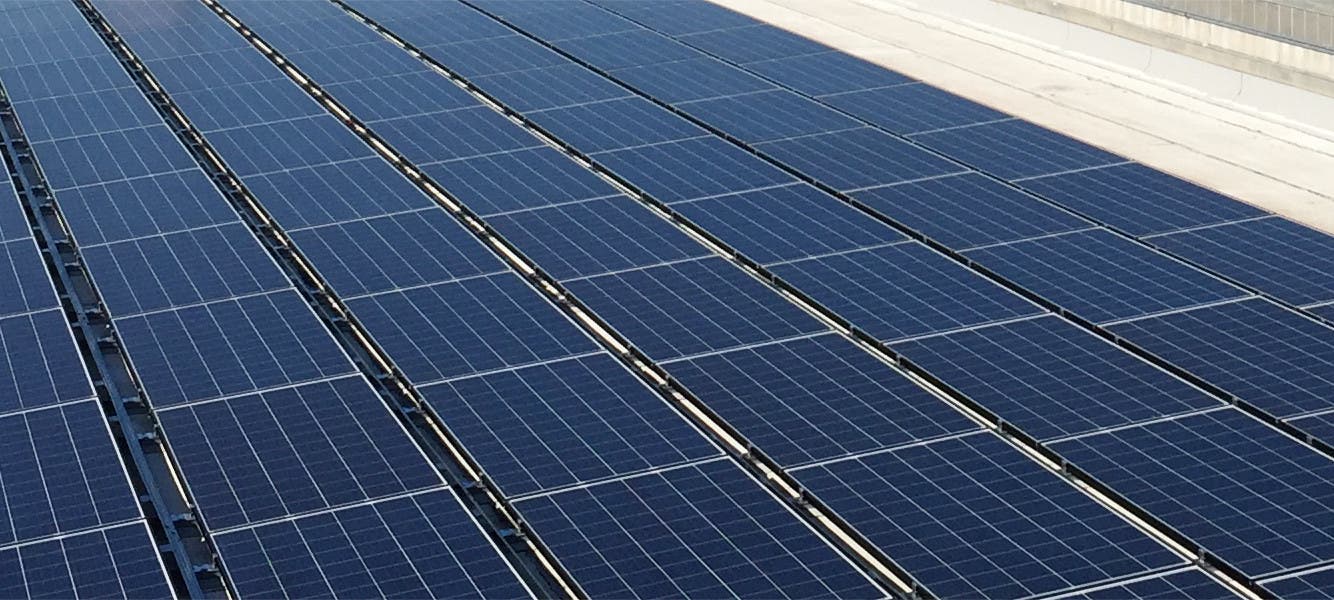 Powered by the Sun
For the past eight weeks, there's been a flurry of activity at Nordstrom Rack Persimmon Place in Dublin, California—and we don't mean just inside the store during this busy holiday season. There's also action taking place on the rooftop. It's all part of a smart sustainability initiative led by the mall's owner, Regency Centers. In an effort to supply the shopping center with renewable energy, Regency is adding more than 1,334 solar panels across the entire mall development, with 540 placed on our roof.

So why exactly are solar panels so helpful? They absorb sunlight and convert it into electricity, reducing the need to use power from other sources that can cause pollution and greenhouse gas emissions. The brighter the sun shines, the more power the panels deliver! At times of peak sunshine, the panels are capable of producing more energy than our store uses, allowing us to send electricity back into the power grid. This helps us do our part to contribute to California's energy resources, which can be heavily stressed during hot summer days, precisely when the sun tends to shine the brightest.

In total, the solar panels on our store at Persimmon Place will generate 60%-70% of the energy the store uses every year. We'll see savings on our power bills, and the panels will help prevent about 45 tons of carbon dioxide from being emitted into our atmosphere—a win for our pocket and for our planet! This isn't our first stroll in the sun's rays—we're fortunate enough to be part of Mercer Mall in Lawrenceville, New Jersey, which also uses solar power to generate power for the entire complex, including our Rack store there.

"When Regency Centers approached us with the idea of installing solar panels on our roof, we were excited to learn more about how they would help us reduce our carbon emissions," said John Pedrini, Nordstrom vice president of Facilities & Energy. "As a company, we're focused first and foremost on reducing the energy we use, but renewable energy also plays an important role and is something we've continued to investigate. There are tremendous opportunities in that space, and this project gives us a chance to learn more about how we'll benefit from solar and other types of renewable energy sources."

At Nordstrom we've long been committed to finding ways to use less energy in our buildings and facilities. We've focused on improving technology and incorporating smart design. Many of our California stores have a "demand response" built into their energy systems, which allows us to lower each store's energy usage by doing things like turning off nonessential lights. Over the past several years we've also made a substantial investment to update lights across nearly all our stores from old incandescent and fluorescent bulbs to energy-efficient LEDs. These bulbs use at least 75% less energy and last 25 times longer than our old incandescent lighting.

Even as we continue to add many new stores, these efficiency measures have helped us use less energy per square foot across all our locations, resulting in a 4% decrease since 2014! That's something we're pretty excited about. Moving forward, we will continue to look for ways we can reduce consumption and incorporate renewable energy, so that we continue to be a company our customers and employees can be proud of.