Taking Care of Our Communities: Tacey Powers Honored by Two Ten Footwear Foundation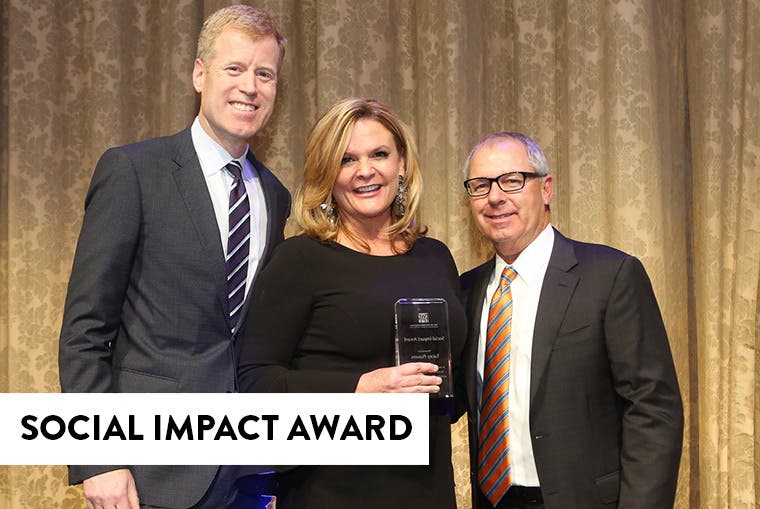 Pictured above: Erik Nordstrom, Nordstrom Co-President; Tacey Powers, Nordstrom Rack Shoe Corporate Merchandise Manager; and Mark King, Adidas President
On November 30, our own Tacey Powers was recognized by the Two Ten Footwear Foundation with their Social Impact Award. The award, which is given out each year at the foundation's annual gala in New York City, recognizes an individual or company who makes giving back to the community a priority. The spirit of the award is rooted in the foundation's history, which dates back to 1939. It was started by a group of shoe salesmen who came together to support others in the industry who were in need of financial support. The salesmen quite literally passed a hat around their meetings to contribute funds. Today, the Two Ten Footwear Foundation offers financial assistance, counseling, community resources and scholarships to thousands of individuals working in the footwear industry and their families.

"Nordstrom started as a shoe company more than 115 years ago, and I felt it was important to contribute to the industry that is at the core of the Nordstrom heritage," said Powers, whose involvement with Two Ten began in 2013 when she joined the organization's Gala Committee to help raise funds to support their meaningful work. She's also an active member of the organization's Women in Footwear Industry (WIFI) group, where she and other leaders help to mentor the next generation of footwear industry professionals. Powers also frequently works with United Way and the Wounded Warrior Project.
"Tacey's fundraising tenacity coupled with her longstanding and unwavering support of the footwear industry and Two Ten made her a clear choice for this year's Social Impact Award," said Neal Newman, President of the Two Ten Footwear Foundation. "Tacey epitomizes the qualities this award strives to capture—compassion, philanthropic leadership and social impact—along with Nordstrom's values of modesty, integrity and corporate responsibility. We applaud Tacey for her lifetime of affecting positive change in the lives of footwear employees, and truly appreciate Nordstrom's partnership as we continue to work together to support the entire footwear industry as one team."    
"I'm so humbled to be receiving this award," Powers said. "People in our industry are always so willing to help each other in times of need. They are such a generous and caring group of individuals, and I'm honored to be recognized for my contribution."  
We're so proud of Tacey Powers for her work in the community and for this special recognition. Congratulations!