Giving Spotlight: Supporting Our Veterans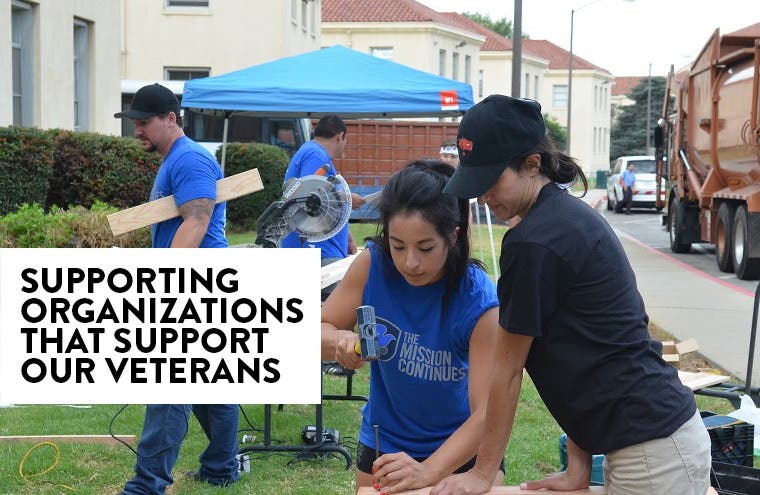 November 11 is Veterans Day in the U.S. and Remembrance Day in Canada so it's fitting that we use this month's Nordstrom Cares giving spotlight to focus on our support of two great organizations that are devoted to serving those who serve their country: 
The Mission Continues
 and 
Wounded Warrior Project
.
Giving to these organizations is very important to us. Although many veterans re-enter life as civilians with a highly valued skill set and leadership qualities, some find the transition to be more of a challenge. According to a joint report by the Department of Veterans Affairs (VA) and the Department of Housing and Urban Development, 16% of homeless adults are veterans. The VA also estimates that 31% of Vietnam veterans, 10% of Gulf War veterans and 11% of veterans of the war in Afghanistan suffer from PTSD.
"Veterans are such an important part of our community," said Terri Baldwin, Charitable Giving director at Nordstrom. "They have given so much to us, and we're honored to be able to support them as they continue their education, achieve financial stability and support their local communities."
The Mission Continues empowers veterans facing the challenge of adjusting to life at home by redeploying them locally to serve and volunteer, which helps them to build new skills and a network of support in their community. Our giving to The Mission Continues goes directly to two of their 
service platoons
 (one in Seattle and one in Los Angeles), which connect teams of veterans with local organizations to take on important issues like veteran homelessness.

"We're grateful to have Nordstrom supporting our veterans as they pursue continued leadership and public service here at home," said Regan Turner, Executive Director of The Mission Continues, West Region. "Nordstrom has empowered our veterans to perform volunteer service projects that have positively impacted their communities, and in doing so, inspired future generations of Americans to serve their community."
Our other partner, Wounded Warrior Project, has a very clear mission: to foster the most successful, well-adjusted generation of wounded service members in our nation's history. Our partnership with Wounded Warrior Project supports their Economic Empowerment programs, which help veterans finish school or vocational training programs, making it easier to land good, well-paying jobs. They also use our support in their Mind programs, which tackle the invisible wounds veterans can carry (like trauma and PTSD) through outdoor rehabilitative retreats, peer support and professional services.
Giving is just part of our commitment to veterans. Through our Supplier Diversity Program, we actively look to do business with companies that are owned by veterans, and our Talent Acquisition team is focused on pursuing opportunities that enable us to better hire, retain and support veteran employees and their family members. Our Gift Card team is also recognizing this important holiday with a Veterans Day gift card, available in-stores and online.