Taking Care of Our Communities: YWCA USA Women of Distinction Awards Gala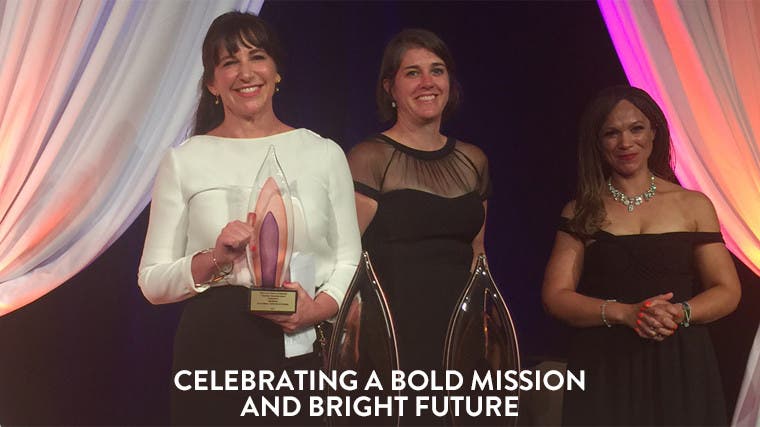 Pictured above: Jen Jackson Brown, Nordstrom Product Group President; Casey Harden, YWCA USA Interim CEO; and Melissa Harris-Perry, Host/Journalist 
On June 16, our 2017 nonprofit partner for Treasure & Bond, the YWCA, held its biennial USA Women of Distinction Awards Gala in Washington, DC. The gala was held to honor several individuals and organizations from across the U.S. who have demonstrated excellence, leadership and integrity in their fields and in the community. Our own Jen Jackson Brown, president of Nordstrom Product Group, was among four Women of Distinction honorees recognized at the event, where she accepted the Corporate Partnership award on behalf of Nordstrom. The award was presented by the night's host, journalist Melissa Harris-Perry, along with YWCA USA Interim CEO Casey Harden.
"We are thrilled to support the YWCA and their TechGYRLS program in 2017 through Treasure & Bond, our give-back fashion brand," Jen said as she addressed the audience. "We are so honored and appreciative to the YWCA for giving us the opportunity to play a role in creating an environment where girls feel comfortable taking risks and opening up new learning opportunities, and hopefully these young women will be sitting in a room like this one day."
Nordstrom was honored to be included among nine YWCAs and several other nonprofits that are working to increase women's and girls' empowerment, racial justice, and advocacy and civic engagement. The mood was celebratory, as 300 event attendees applauded the contributions of the associations, recipients and supporters dedicated to improving the lives of women, girls and families.
Learn more about Treasure & Bond and our YWCA partnership.