Supporting Our Communities: Nordstrom + Day of Caring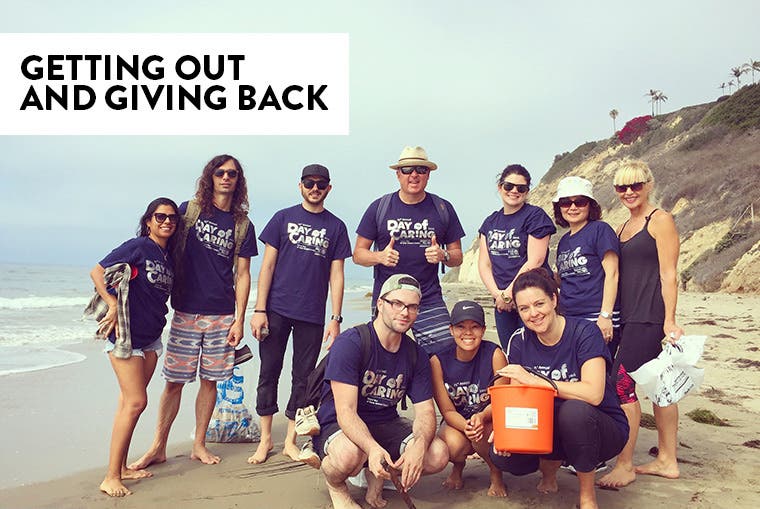 This past September and October, as part of our annual Day of Caring volunteer events, Nordstrom employees from stores and corporate offices across the country pitched in to help support the work of local nonprofit organizations. Projects ranged from sorting 15,000 pounds of corn at a food bank in Oregon to beach cleanups on the California coast and helping at community wellness fairs in New York. Here's a glimpse at a few of the other projects we supported.
Nordstrom Flatiron Crossing
Broomfield, Colorado
The team spent their day sorting through donations for A Precious Child in Broomfield, Colorado. The organization provides basic essentials to children in need, focusing on empowering them to succeed in school. "The biggest takeaway for my team was that it's so easy to forget the power your actions can have. On a day-to-day basis we make customers feel great by selling them fashion on their terms," said Abi Leonard, store manager. "Our Day of Caring made the team remember that just a few hours of their time can make a massive difference in someone's life. This clearly translates into our roles at Nordstrom—we can make a difference in the lives of our customers and our salespeople every day by trying to find ways to make them feel great!"

Nordstrom Rack at The Markets at Town Center
Jacksonville, Florida
Many students in the Jacksonville area start the year without the supplies they need, and many teachers have to use their own money to buy classroom supplies. The event started with an empty school bus, which local residents quickly helped fill. The "stuffed" bus was then driven to United Way in downtown Jacksonville, where Nordstrom volunteers unloaded, sorted and repacked items for schools. More than 23,000 school supply items were given to 87 schools and the Salvation Army.
Nordstrom Rack Alamo Quarry and San Antonio Rim
San Antonio, Texas
The two San Antonio Rack stores teamed up to volunteer at the Guadalupe Community Center, which provides after-school programming, counseling and on-site social workers. Our Team Members sorted clothes and household items that will be distributed to individuals in need. 
"It was eye opening to witness firsthand how our help immediately impacted people coming in for services," said Gilbert Cantu, our San Antonio Rim Rack store manager.
Seattle Headquarters
More than 500 volunteers participated in a dozen local projects around Seattle that ranged from sorting clothes at Goodwill to removing invasive species in green spaces. One team worked at The Shoreline Children's Center, which was established to provide high-quality, accessible and developmentally appropriate programming to young children. They weeded, trimmed shrubs and moved mulch to prepare the gardens and pea patch for the fall and winter. "I appreciate that Nordstrom gives us the opportunity to take a day to help out the community," said Grace Clack, a marketing manager. "During the years I've participated in Day of Caring, I've gotten to explore and learn a lot about different parts of the city and the valuable services that support the people in these communities." 
Thank you to everyone who volunteered!