Our Treasure & Bond Brand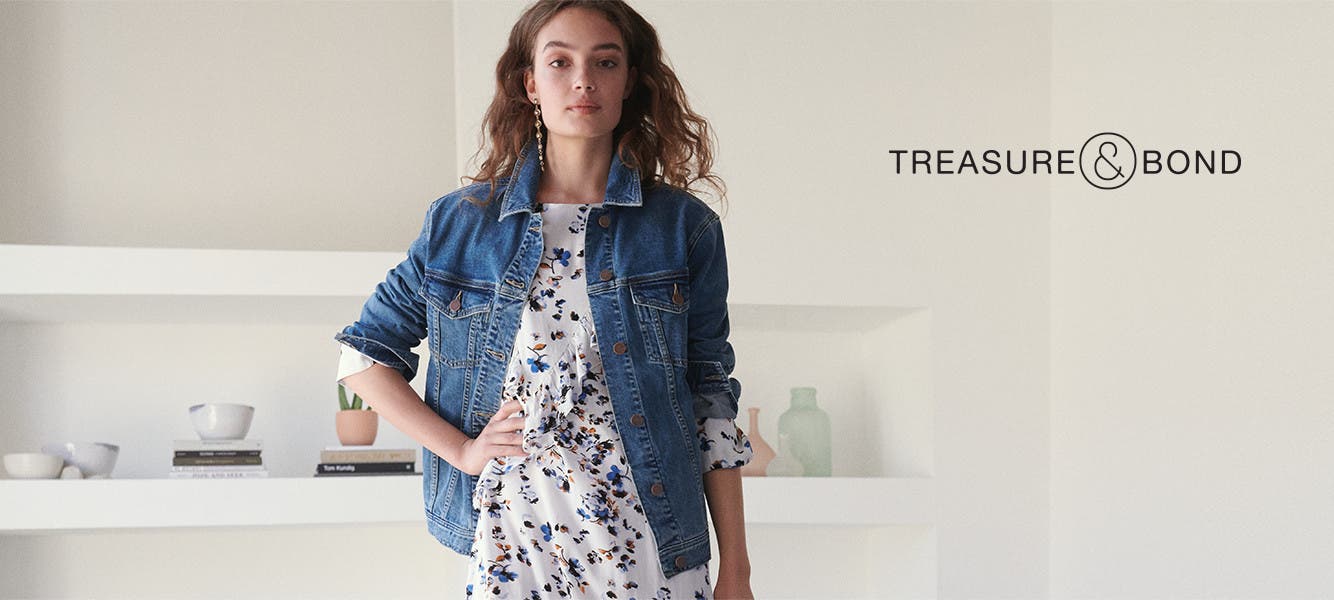 Look Great & Give Back: Treasure & Bond
January 1, 2015
Nordstrom has always been committed to offering our customers the latest in fashion and trends. We've also long looked for opportunities to give back to the communities that give us so much. So why not marry the two? Look Great & Give Back. That's the thought behind the new Nordstrom brand Treasure & Bond.

Treasure & Bond offers updated and reworked favorites at great prices—think washed denim, soft plaid shirts, your favorite tees and well-worked-in moto jackets. Even better than that? Treasure & Bond enables fashion-savvy customers to give back with every purchase. Two and a half percent of the net sales of Treasure & Bond merchandise (that's 5% of net profits) will always go to a nonprofit organization that empowers youth. So customers get great clothing at an incredible value and help support great community-focused organizations!
"What Girls Inc. does for girls and young women is just a perfect fit for what we wanted to evoke and support through the Treasure & Bond brand."
—Julie Goldstein, Brand Manager, Nordstrom Product Group
"As we created this brand, we thought a lot about the customers who would love this lived-in vintage look and the things that inspire and motivate them. Words like confident and authentic came to mind, and the idea of making this about giving back—the most authentic thing we can do to support others—and then finding a way to give back that would resonate with Treasure & Bond customers, was born," said Julie Goldstein, the brand manager for Nordstrom Product Group who helped create the new line. "As we thought about names, we didn't look too far from home—it was natural to go with Treasure & Bond, in honor of our philanthropic store with the same name that was based in New York City."

Treasure & Bond & Girls Inc. 
The brand's current beneficiary is Girls Inc., a nonprofit that inspires all girls to be strong, smart and bold. Girls Inc. provides more than 138,000 girls across the U.S. and Canada with life-changing experiences and real solutions to the unique issues they face each day.

"Girls Inc. is really focused on giving girls the right tools and support to succeed," said Judy Vredenburgh, president and CEO of Girls Inc. "This includes providing them with trained professionals who mentor and guide them in a safe, girls-only environment; research-based programming; and peers who share their drive and aspirations. Our ultimate hope is that with Girls Inc. in her corner, every girl can be healthy, educated and resilient. We are pleased to partner with Nordstrom as they launch this great brand that inspires just that."

"What Girls Inc. does for girls and young women is just a perfect fit for what we wanted to evoke and support through the Treasure & Bond brand," said Goldstein. "We're so excited that we're launching the brand with them as our first partner, and we can't wait to find other great nonprofit partners as the brand grows."

Fashion & Philanthropy 
The Treasure & Bond brand was inspired by and carries on the legacy of Nordstrom's eponymous NYC store, which gave more than $200,000 to New York City-based charities over the course of the two years it was in business. Several local charities like One to World and Care for the Homeless were recipients of the proceeds of the Treasure & Bond store's sales.

"We loved the feeling that Treasure & Bond evoked in the New York City community, and it just felt right to extend that same sense of philanthropy and giving back to its namesake brand," said Goldstein. "We're proud to carry on that legacy through these clothes, and hope our customers love that they can be a part of that."

Treasure & Bond merchandise is available in selected Nordstrom t.b.d. departments and online at Nordstrom.com. Learn more at nordstrom.com/treasureandbond.